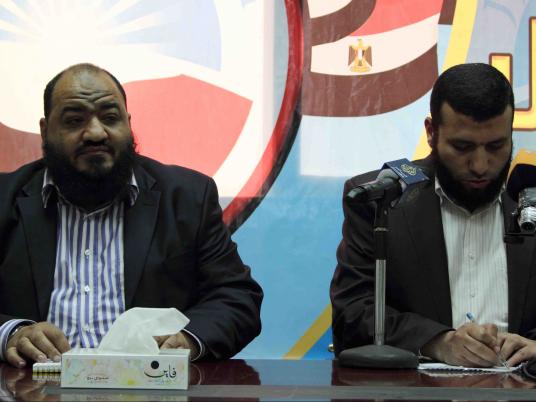 A delegation representing the Salafi-oriented Nour Party's Shura Council bloc will make a visit the Sinai Peninsula Wednesday, where it will hold seminars and conferences for four days towards countering extremist thought, said the official Facebook page of the party.
The delegation will include former Nour Party MPs and some Salafi scholars led by Yasser Borhamy and Abdel Moneim al-Shahat. They will meet with security leadership, governorate officials, army soldiers, and tribal chiefs to inquire about the progress of counter-terrorism efforts and discuss popular support for the armed forces against extremism.
Since the January 2011 uprising that toppled former Egyptian president Hosni Mubarak, observers have warned of the increasing presence of Islamist extremists in the Sinai Peninsula.
An attack on an army checkpoint in the city of Rafah earlier this month, which killed 16 Egyptian soldiers, was blamed on Islamist militant groups. One week after the attack, Nour Party Chairman Emad Abdel Ghafour said his party was willing to combat extremist thought in that area.
The Muslim Brotherhood had announced a similar initiative on Thursday, unveiling plans to communicate with Sinai tribesmen to conduct revisions of excommunicative thoughts upheld by religious currents at that region.
Abdel Rahman al-Sherbiny, an official at the group's Freedom and Justice Party's office in North Sinai told Al-Masry Al-Youm that the Brotherhood's Guidance Bureau had sent a delegation to meet with tribal and Islamist leaders to discuss how to solve the security crisis in the peninsula.