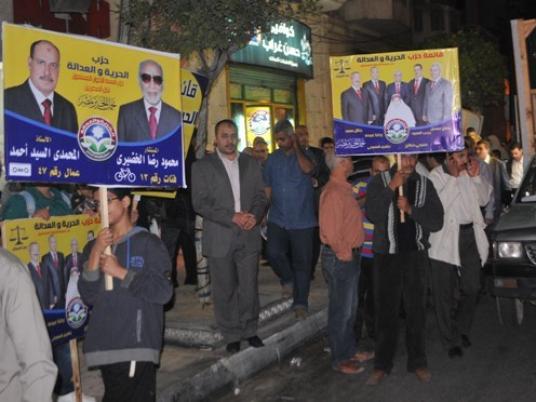 The Observers Without Borders Network has detected certain violations on the second day of the presidential election in several governorates, mainly campaigning before polling stations and directing voters to vote for certain candidates.
In a statement on Thursday, the network said breaching the campaigning ban increases the chances of clashes between supporters and opens the door for bribes.
The statement added that turnout on the second day was significantly weak, and that some polling stations opened between half hour and an hour late, yet with no major problems in storing the ballot boxes.
The network specifically pointed to the supporters of Mohamed Morsy and Abdel Moneim Abouel Fotouh, who were campaigning before the polling station of the Memariya School in Dar al-Salam, Cairo.
Abouel Fotouh supporters also erected a tent on 23 July Street in Mahalla to promote him during the election, Morsy supporters distributed leaflets to promote him at the polling station of Ghawanem School in Assiut.
The polling stations at the Nile School in Damietta and the Meadawy School in Kafr al-Sheikh, as well as those of the Faisal district in Suez and the Saft al-Enab School in Beheira, all witnessed violations by the supporters of those two candidates, according to the statement.
The network found that the polling stations of the Shaheed and the Helal schools in Beni Suef did not have voters' lists, nor were there any in the Tahrir School in Assiut, the Preparatory School of Isna, Qaraya School in Luxor and the School Complex in Basateen, Cairo, near the Jewish cemetery.
Also, no voters' lists were found in the Old Industries Girl's School of the Faisal district in Cairo, where the voting process was stopped for more than three hours to wait for the phosphoric ink to arrive.
The polling stations of the Ahmed Ramadan and Nasr schools in Suez saw clashes between the supporters of Amr Moussa and Hamdeen Sabbahi on the one hand, and those of Morsy.
The same happened at the Abu Sanar station in Rafah, North Sinai between supporters of Moussa and Abouel Fotouh.
There were also scuffles between supporters of Moussa, Abouel Fotouh, and Morsy in front of the Abu Hawambia polling station in Giza governorate.
Edited translation from Al-Masry Al-Youm