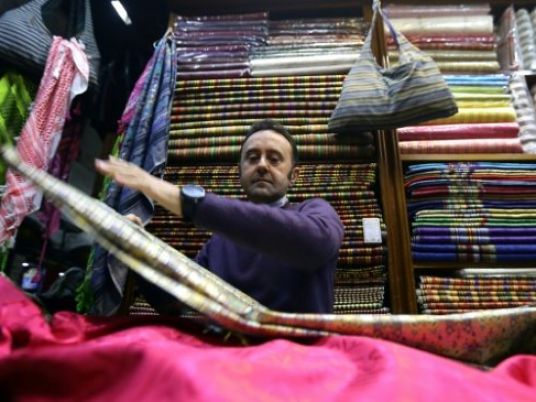 In his cramped workshop in Damascus, Mohammad Abdallah delicately etches away at wooden panels inlaid with mother-of-pearl, a craft he perfected over a decade before the outbreak of Syria's war.
As he works, Abdallah says he fears his craft — the intricate process of filling carved wooden decorative pieces with shells, bone, or ivory — could be forced into "extinction" by the conflict raging across his country.
"I worry for the fate of the Damascene mother-of-pearl craft because of the lack of labour and the difficulty in acquiring and transporting raw materials," the 43-year-old says.
Like many other craftsmen, Abdallah was forced to abandon his spacious warehouse on the outskirts of Damascus when fighting broke out.
"My heart aches because the mother-of-pearl workshops in Damascus and its outskirts have dropped from 30 to only three or four workshops," he says.
His own workforce "has faded in recent years because the labourers have joined the fighting or have fled" Syria altogether.
And local purchasers, stung by the devaluation of the Syrian pound, can no longer afford the stunning designs, he says.
Since Syria's conflict erupted in 2011, more than 260,000 people have been killed and millions have fled their homes.
But the war has also taken a toll on the country's renowned traditional craft, from ornate wooden furniture to the rich, golden stitching of its famed brocade fabrics.
Dearth of craftsmen
The artisanal designs were popular among tourists, who generated about 12 percent of Syria's pre-war gross domestic product.
But with tourism virtually non-existent and travel across the country growing more difficult by the day, craftsmen in Damascus are in despair.
Traditional cultural products in Syria, from songs and poetry to beautiful handicrafts, "have been completely damaged by the crisis", says Mohammad Fayyad, a researcher on cultural heritage.
"If the situation continues like this, there will be no more craftsmen" left in Syria, Fayyad tells AFP.
In 2009, Syrian craftsmen registered with the national union had numbered some 18,000, alongside an estimated 39,000 who were unregistered, Fayyad says.
By the end of 2015, between 70 and 80 percent had left the trade, many emigrating after the destruction of their workshops around Damascus and in the northern city of Aleppo, another handicrafts hub, according to Fayyad.
Fabric specialist Samer al-Nuqta contemplates the vibrant pieces of cloth on wooden shelves in his workshop, which dates back to 1929 and stands in the famed Hamidiyeh market's "tailor row".
He says he doesn't know what has happened to his factory in Ain Tarma, on the outskirts of Damascus.
"We haven't produced a single metre (yard) for about five years. Right now, we're selling what we had in store in the warehouse," he says.
"I will sell what we have left in store, and after that I may be forced to change my trade, which I grew up on," Nuqta says.
Bahaa al-Takriti, who weaves the richly embroidered aghbani cloths often used as tablecloths, says his "weekly production has dropped from 60 covers to six — and sometimes only three."
"Out of six people that knew how to set the designs, only two are left," Takriti laments.
British queen's wedding fabric
As it nears a sixth year, Syria's conflict has also diminished the production of Damascene brocade, handwoven silk fabric ornately decorated with brightly coloured thread.
Brocade became world-famous when former Syrian president Shukri al-Quwatli gifted a slot of the fabric in 1947 to the future queen Elizabeth II, who used it as part of her wedding gown.
But few foreigners now come to Damascus to purchase the lavish cloth, and Syrian buyers can no longer afford it.
Ibrahim al-Ayubi, who has produced brocade in the Syrian capital for decades, says good quality silk is hard to come by, and anyway, the price has gone up "tenfold".
"The crisis had a really big effect on us because of the lack of tourists, which made up about 95 percent of our customers," Ayubi says.
And in the corner of Ahmad Shakaki's brocade shop in Damascus, a large wooden loom stands next to a small stool made of coloured bamboo.
Narrow shelves display the elegant brocade fabric that Shakaki painstakingly produces.
"Our craft (is) essentially dependent on our sales returns, which in turn depend on tourists. Our situation is tough now, and we're working with whatever we have," Shakaki says.
"The war has made the new generation reluctant to learn the trade," he adds.
"I am worried that this loom will stop weaving."