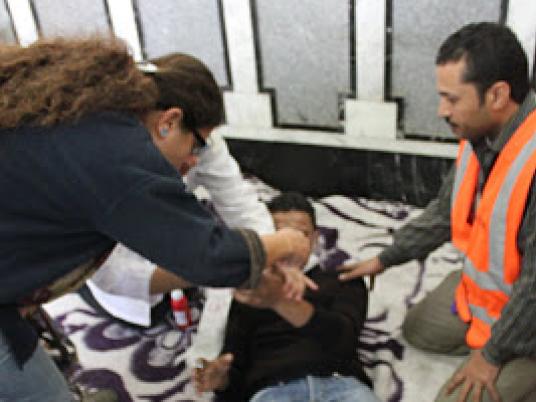 The field hospitals, clinics and makeshift pharmacies that began to reappear downtown following Saturday's violent police crackdown on protester encampments are once again mushrooming in and around Tahrir Square.
The demand for easily accessible medical services grew with the confrontations between protesters and riot police on Tahrir's side streets. Reports of the number of fatalities and injuries have varied, with the Health Ministry saying more than 31 have been killed nationwide.
Hundreds of physicians, nurses, medical students, and interns have volunteered to tend to the injured and, reminiscent of the uprising early this year, are staffing at least seven field hospitals and clinics in the area.
"Sunday was by far the bloodiest day," said Dr. Ahmed Samy, a recent medical school graduate. "We tend to those injuries and conditions which do not require surgery-room operations."
The young physician added, "serious injuries, such as gunshot wounds and embedded (lead) bullets are rushed off in ambulances to hospitals and operating rooms."
Samy is stationed at the Omar Makram Mosque's field hospital, outside of which dozens of orange ambulances deployed by the Ministry of Health are stationed. At times, injured protesters are brought to the field hospital nearly every minute. The volunteers tend to limping, bleeding, bruised, panting and unconscious activists.
"The most common injuries we receive are fainting due to tear gas inhalation, bruises, broken bones, fractures, and cuts from the rocks and bottles being thrown back and forth," he said.
The field hospital has also treated injuries from rubber shotgun pellets, and some burns caused by tear gas canisters and Molotov cocktails. Samy says one man was also rushed to Qasr al-Aini hospital after sustaining a spinal injury when he was trampled.
Omar Makram and other makeshift treatment areas are roped off to keep throngs of protesters from encroaching on them. Activists also link arms, forming human chains to clear the roads for ambulances and the motorcycles used to ferry the wounded through the congested square.
On Mohamed Mahmoud Street, where most of the fighting has occurred, activists are on standby with spray bottles and squeeze tubes of chemical solutions (such as milk or antacids) to douse protesters who have been hit with tear gas. They spray and squirt these solutions onto the faces of tearful protesters to counter the burning sensation. Others carry vinegar or soda, which allegedly have a soothing effect.
"We are all volunteers here. There is no professional association, political party or group which is organizing this effort," said Qassem Ismail, a medical student at Qasr al-Aini University who is also working at the Omar Makram field hospital.
"All our medicines, equipment, ointments, and bandages have been donated to us by sympathizers and activists," he said. "We have a significant stock of these medicines, and we usually don't run out of these supplies because we tell the donors exactly what we need."
Located just one block away is the Qasr al-Dobara Church field hospital.
"I'm not a doctor or nurse, I'm here just to make sure that security forces or thugs do not attack this field hospital," said Tareq Aziz as he stood guard outside the church. "On Sunday, Central Security Forces and military police destroyed the field hospital in the middle of Tahrir Square, they burnt down the hospital tent and medical supplies."