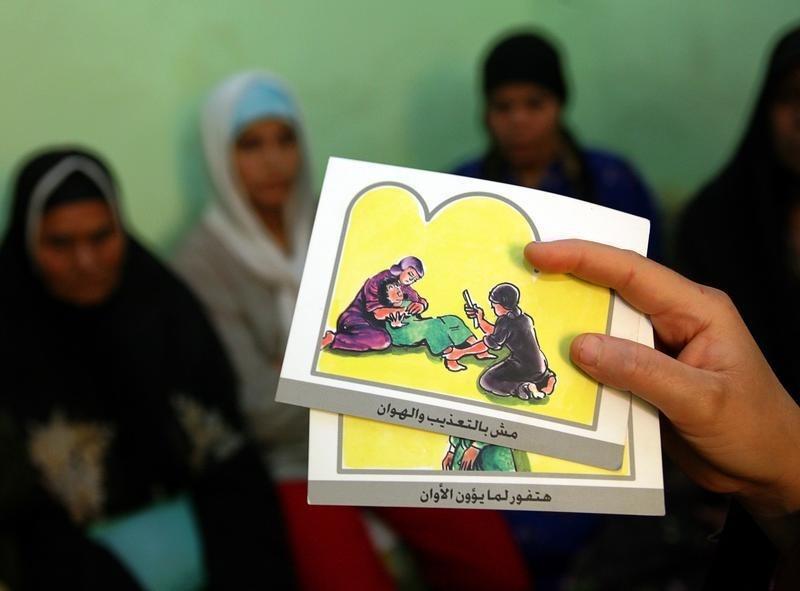 Under the slogan "Circumcision is a burial ground," a number of women's and human rights organizations have launched campaigns against female circumcision in Egypt on the International Day of Zero Tolerance for Female Genital Mutilation, which falls on February 6 of each year, amid international outcry over the death of a 12-year-old girl who underwent the procedure last week in Assiut.
Plan International Egypt strongly condemned the practice of female circumcision, said Mudassir Siddiqui, director of Plan International Egypt for children's rights, who stressed that FGM is a "harmful" and "violent" practice against girls that must be eliminated.
Female genital mutilation, sometimes referred to as female circumcision, is a painful procedure that usually involves removing the clitoris and sometimes includes removing other external female genital organs as well. The practice causes permanent injuries and bleeding, infection, and even death, Siddiqui added.
Egypt has one of the highest rates of female genital mutilation in the world, according to a statement from Tadwein Gender Research and Training Center.
On Thursday, The Women's Center for Guidance and Legal Awareness organized a workshop aimed at raising awareness about the dangers of FGM. Twenty-five activists from different governorates across Egypt took part in the event, which covered the medical, social and psychological harm brought on by female circumcision. 
The National Council for Women also organized a panel discussion on circumcision aimed at educating women in the Asmarat neighborhood and other working-class areas, including Al Marg and Kilo 4.5, about the dangers of the practice, which is common in other countries in Africa. 
The National Committee of the Eradication of FGM confirmed its complete rejection of the practice as well, adding in a statement it would continue fighting it.
"Cooperation between all members of the National Committee resulted in the organization of more than 700 events, which succeeded in reaching nearly 20 million women, girls, men and children in villages…in the governorates over a period of nine months," the statement read.
A children's helpline for reporting FGM received 1,589 consultations, complaints and reports on female circumcision over the nine-month period, the National Committee's statement added.
For its part, The Center for Egyptian Women Legal Assistance called for expanding the scope of legal responsibility to include hospitals and medical facilities where female genital mutilation is performed, as well as expanding the powers of medical unions to revoke licenses of doctors and medical staff who perform female circumcision.
Earlier this week, the President of Egypt's National Council for Women (NCW), Maya Morsi, called on Egypt's Endowments Ministry to unify Friday sermons at mosques across the country to raise awareness about female genital mutilation and ensure the public understands that it is not an Islamic practice, in response to the death of the 12-year-old girl in a clinic in Assiut Governorate.
The girl bled to death after her parents, aunt, and uncle took her in for the procedure, reported the The Guardian, and a forensic investigation also revealed that the procedure was done without anesthesia, according to Egyptian newspaper Youm7. 
The United Nations in Egypt condemned the incident in a statement last Friday: "We are outraged that such senseless deaths still occur in 2020, despite progress made to eradicate this violent practice in terms of law reform, awareness raising, as well as direct engagement with local communities and religious leaders."
The doctor who performed the operation and the girl's father were arrested, and the clinic was placed under security watch. However, the victim's parents and her aunt were released on Saturday.
In 2008, Egypt's Parliament approved a law banning FGM, a practice widespread in Egypt and other parts of Africa and believed by many to be a way to control female sexuality. The move was opposed by conservative voices at the time.
A 2015 government survey found that 87% percent of all Egyptian women between 15 and 49 years of age have been subjected to genital cutting despite efforts by the Egyptian government to curb the practice, which some believe is necessary for girls to demonstrate their sexual purity, according to a report from The Associated Press.
In December 2016, an Egyptian criminal court sentenced two doctors and the mother of a 17-year-old girl who died after undergoing FGM to one year suspended sentence each, with the verdict drawing a wave of criticism from women's rights activists, according to the same report.
That same year, Parliament adopted amendments to the anti-FGM law, redefining FGM from a misdemeanor to a felony, but some activists say the law contains loopholes that allow the cutting of female genital organs in cases where there are so-called "medical" justifications for the operation, which has helped the practice to continue.
Edited translation from Al-Masry Al-Youm
Image: A counsellor holds up cards used to educate women about female genital mutilation (FGM) in Minya, on June 13, 2006.