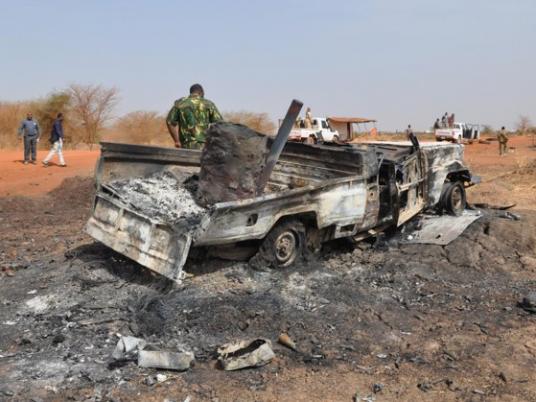 WASHINGTON — Sudan and South Sudan are playing a dangerous economic version of Russian roulette that threatens the success of both countries, the top US official for the region said on the first anniversary of South Sudan's independence.
Princeton Lyman, US special envoy for Sudan and South Sudan, said frayed relations between Juba and Khartoum will slow desperately needed growth unless they can negotiate settlements to the border and oil issues that remain unresolved one year after the South seceded.
"Each side thinks the other is more vulnerable," Lyman said. "But it is a very dangerous attitude. It is kind of a mutual economic suicide approach."
Lyman's grim assessment came despite US pressure on both sides to resolve their differences, which threaten to overshadow the peaceful emergence of South Sudan as Africa's newest independent state.
President Barack Obama's administration has promised to assist South Sudan economically and offered Khartoum — which is on Washington's official list of state sponsors of terrorism and has been under a US trade embargo since 1997 — the prospect of better ties if the lingering disputes can be put to rest.
Pipelines and politics
Landlocked South Sudan erased 98 percent of its revenue in January when it shut down oil production over a dispute with Khartoum about revenue sharing and fees for a pipeline through Sudan — the South's only outlet for its oil exports.
South Sudan, already one of the poorest countries in the world, now struggles to provide basic services to its roughly 8.2 million citizens and has left many of its people questioning when they will see material benefits of independence.
Khartoum, which lost three quarters of its oil output and much of its income when the South seceded, is now battling inflation and other economic woes that have led to spreading public protests.
Last month Khartoum announced austerity measures to end subsidies on commodities like sugar and fuel as the government, facing a mounting debt crisis, could no longer afford the cost.
The growing economic crisis has compounded political friction between the uneasy neighbors, whose supporters have been fighting in border regions such as Blue Nile and Southern Kordofan states and remain at loggerheads over the fate of the disputed Abyei border region.
South Sudan gained its independence last year after two decades of war between the mostly Christian south and the Arab northern populations left more than two million people dead.
There have been negotiations since the South shuttered its oil production, Lyman said, but few of the major issues have been resolved. He urged South Sudan to restart oil production and work with Sudan to ease the tensions.
"One of the most immediate challenges for South Sudan is to take a hard, pragmatic and courageous approach to its current economic crisis," Lyman said. "Without oil revenue, many development projects now on the books will be delayed."
The charge d'affaires for the Embassy of South Sudan in Washington, Dhanojak Obongo, said his country was looking for alternatives to the Sudan oil pipeline and planned to build a conduit through Djibouti in the next 30 months — a timeline Lyman said was "overly optimistic."