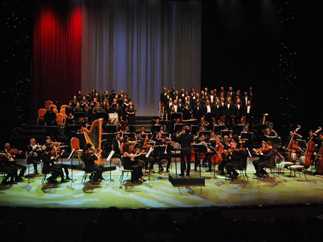 The Opera House will celebrate its 33rd anniversary with a rich and varied artistic program including seven concerts across its various theaters in Cairo, Alexandria and Damanhour at eight pm on Sunday.

Minister of Culture Enas Abdel Dayem congratulated the Opera House, its president Magdy Saber and its staff, and called it one of the most important artistic platforms in Egypt and the Arab world.
Abdel Dayem said that the Opera House is a major component of Egypt's soft forces and since its opening has enriched the nation's creative life, building bridges of artistic and cultural communication with different countries.

The planned celebrations will features a variety of distinctive artistry, Saber added.
In the Main Hall, a concert will be held by the Cairo Opera Troupe under the supervision of its artistic director Iman Mostafa, the Cairo Opera Orchestra, and the Cairo Opera House Choir.
The concert will be directed by Hazem Tayel, and will include excerpts from the many famous international operas, including the Sicilian Vespers, Trovatore, Rigoletto.
It will also include an anthology of the opera Aida in its first version presented in 1872 by Verdi, the Force of Destiny, the Gypsy Princess operetta by Emmerich Kálmán, the Barber of Seville by Rossini and La bohème by Puccini.
A concert will also be held at the Fountain Theater. The orchestra will be led by Maestro Mohamed al-Mougy and will include a selection of famous compositions created by great composers performed by Yasser Suleiman, Ahmed Effat, Sabreen al-Negily and Rehab Motawea.
On the Small Stage, the Cairo Opera Groups for Chamber Music will play a number of international classical compositions that formed part of the history of this art.
Al-Gomhouria Theatre will host a concert for the Salam Choir, led by Maestro Wael Awad, affiliated with the National Center for Child Culture, which includes a group of traditional and contemporary musical and lyrical works.
Coming on the Arab Music Institute stage and as part of a series of "Kolthoumiat" concerts, the Abdel Halim Nuwayra ensemble led by Maestro Salah Ghobashy will present several lyrical masterpieces from Umm Kulthum, performed by Rehab Omar and Ghada Adam.
On Sayed Darwish's theaters of Alexandria and Damanhour opera houses the Talents Development Center will present two concerts for children choirs, which include a constellation of famous lyrical compositions.
The Opera House was inaugurated on October 10, 1988.
It includes seven theaters, namely the Main Hall, the Small Theater, the Open Air Theater, El Gomhouria Theater, Arab Music Institute  in Cairo, the Fountain Theater, Sayed Darwish Theater in Alexandria, and Damanhour Theater in Beheira.
The Opera House played a major role in enriching the artistic life in Egypt, serving as an artistic outlet for various categories of the Egyptian public and Arab and foreign communities.
It has also provided an opportunity for promising troupes and artists to present their unique talents, in addition to high-end arts like ballet, opera, classical and Arabic music, cultural salons, plastic arts exhibitions, and various festivals.