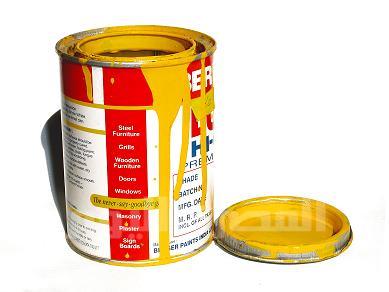 Painting the walls of your home may seem like one of the quickest ways to update your interior design scheme, but before you break out the paint brushes, think carefully.
Experts say your choice of interior paint color for each room in your house has psychological effects on you and your family that should not be underestimated.
If you have a stressful life, you should repaint the rooms where you spend most of your leisure time — the living room and bedroom — in colors that are easy on the eyes.
"Bedrooms and living rooms are where we read, watch TV, relax and sleep, so light colors, including beige and soft gray, are essential for creating a tranquil environment," says Nahla Amin, a psychiatrist.
Amin says that dark and deep colors can be anxiety-provoking and cause headaches. For example, the color red is said to increase blood pressure and heart rate.
If you want to spice up the relaxing spaces of your house, however, pairing light tones with touches of dark colors creates a catching contrast and allows you to express your own artistic personality.
Though some people shy away from dark tones for fear that they will evoke a gloomy mood, Nirvana al-Zoghby, an interior designer, says that these colors are trendy nowadays because they have a dramatic and elegant effect.
"It is about mixing up the right colors together for a great-looking result at the end," she explains. "Paint three walls in a room light tones while for the fourth wall use a contrast color or a couple of shades darker than the other walls. Hang a painting or mirror on the darker wall where the focal point of the room is."
Zoghby advises opting out of the traditional paint colors for kids' rooms — pink for girls and baby blue for boys.
You can stick to light colors, she said, but look for more innovative, livable schemes embellished with your child's favorite drawings or cartoon characters.
"Orange, yellow, green, blue and light purple are really fun colors for both girls and boys that reflect their energizing nature and brighten their outlook," says Zoghby.
However, Amin suggests diluting super vivid colors and avoiding bold paint tones to keep from stressing kids out.
While orange, blue, green and yellow seem to be boys' favorites, pink and light purple or green and pink might suit some little girls who might prefer more of a princess-like scheme.
Parents can then decorate the walls with art pieces, cartoon posters or motivational quotes to further lift their spirits.
Amin said that softer colors such as pastels are perfect when it comes to babies' rooms. Also, furniture and bedclothes should be in soothing colors to help them sleep calmly.
Zoghby recommends avoiding striking colors for eating spaces and prefers different shades of brown such as café au lait, chocolate brown, or coffee brown.
"This color is timeless and suits traditional and modern interiors alike, so painting the walls the degrees of brown will effortlessly complement the natural wood tones," she says.
Amin agrees with Zoghby, saying brown tones are natural shades that create cozy atmosphere and comfort without appearing dreary.
However, if you want to brighten up your surroundings, consider using light yellows and bronze that bring out the golden aspects of the wood.
Another approach Zoghby suggests is painting the edge between the walls and ceiling, as well as decorating the center of the ceiling around a light fixture in the same shade.