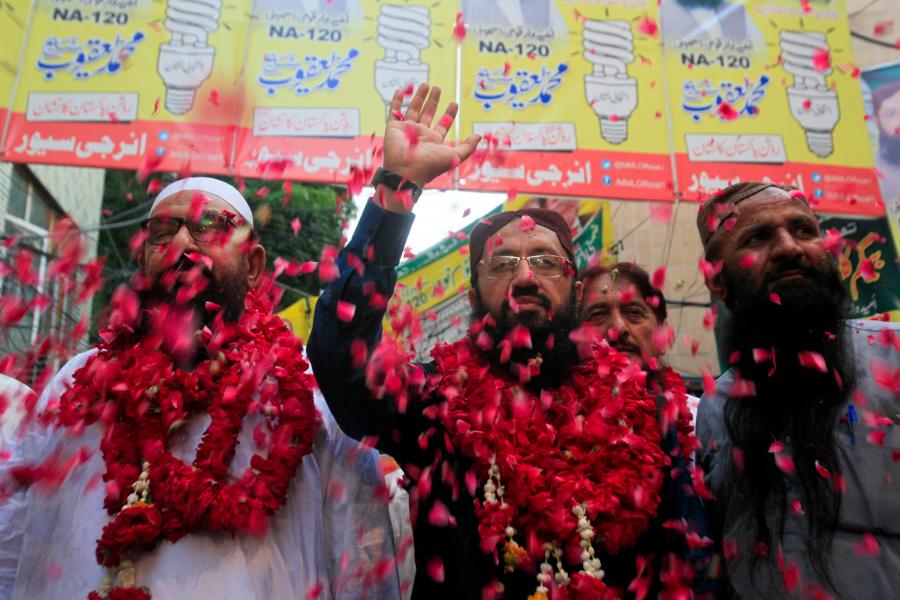 The freeing of a hostage US-Canadian family by Pakistan's army has been hailed by officials as a positive step in mending ties between Washington and Islamabad, but those hoping for a fresh start in their fraught relationship seem likely to be disappointed.
Pakistan and the United States have for years been – at best – uneasy allies in the war against the Taliban and other Islamist extremists.
US President Donald Trump said the raid that rescued American Caitlan Coleman, her Canadian husband Joshua Boyle and their three young children showed that Pakistan had started to "respect the United States again" in response to his administration's tough-talking tactics.
But the two countries still have conflicting interests – and the Trump administration's vow to apply more diplomatic pressure on Pakistan is unlikely to work, given Islamabad's growing alliance with regional heavyweight China, say analysts.
"This is a small occurrence between Pakistan and the US, and it should not be confused with the big issues that separate Pakistan and the US," said Pakistani security analyst Imtiaz Gul.
On Friday, five years after they were kidnapped in Afghanistan, Coleman and Boyle flew home with the three children born while they were captives of the Haqqani network, a feared Taliban sub-group that Washington particularly accuses Pakistan of failing to do enough to fight.
Some saw the timing as a goodwill gesture ahead of upcoming visits by US Secretary of State Rex Tillerson and Defense Secretary Jim Mattis.
"I don't think it's a coincidence that this hostage release was announced when you have a parade of top Trump administration officials in Islamabad to deliver strongly worded warnings to Pakistan," said Michael Kugelman, a South Asia specialist at the Woodrow Wilson Center.
He added that no one should take the good news as a definite sign that Pakistan would drastically change its behavior towards militants such at the Haqqanis.
"Going after hostages is not the same thing as going after the terrorists holding them," he said.
The United States has repeatedly accused Pakistan of not doing enough to eliminate militant havens on its territory.
For now, officials on both sides are talking up the cooperation on display in Wednesday's rescue operation, when Pakistani troops acting on a US intelligence tip-off swooped on a vehicle carrying the hostages.
But tensions remain.
Pakistan is still angry at the unilateral US operations on its soil to kill al Qaeda leader Osama bin Laden in 2011 and last year's drone strike that killed Taliban supreme leader Akhtar Mansour.
United States officials, for their part, suspect both bin Laden and Mansour were able to live in Pakistan with the tacit support of at least some elements of the powerful military.
Washington also argues that the Taliban – which has been fighting to re-establish its hardline Islamist regime in Kabul since a 2001 US-backed military intervention – would not have been able to gain so much ground against Afghan government forces in recent years without safe havens in Pakistan.
Trump's administration in August warned aid to Pakistan might be cut and Washington might downgrade its status as a major non-NATO ally, in order to pressure it to do more to help bring about an end to America's longest-running war.
Pakistani officials bristle at US claims Islamabad is not doing enough to tackle Islamist militants, particularly the Haqqanis, saying they have cooperated for years and launched military operations to push out militants from its soil.
Pakistan also says few appreciate that 17,000 Pakistanis have died fighting militants or in bombings and other attacks since 2001.
Pakistan is less vulnerable to threats of US aid cuts because Islamabad has been deepening its relationship in recent years with China, which is financing some $57 billion in infrastructure projects, said Gul.
Critics say the Pakistani military nurtures the Taliban and other Islamist factions because they are seen as potentially useful to Pakistan's core confrontation with old rival India.
The Trump administration's recent talk of a "regional strategy" for Afghanistan that would include a bigger role for India has deeply upset Pakistan's establishment, said Mosharraf Zaidi, an Islamabad-based commentator and former Pakistan Foreign Ministry adviser.
"It seems like for the US, and President Trump has said so, that India is going to be a big part of the future of Afghanistan, and for Pakistan that's not on the table," Zaidi said.
As a nuclear power, Pakistan could also be offended further at Trump's implication that it has bowed to his administration's pressure.
"Given that people understand that respect for America is a big deal for Trump and a big deal for the American people, it shouldn't be so hard to understand why Pakistan … also wants to be respected," said Zaidi.