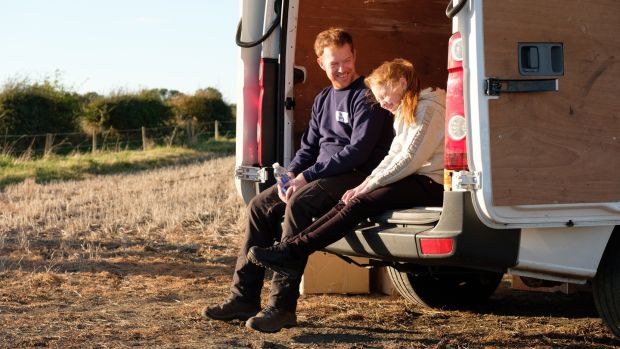 Zawya cinema opened Wednesday the 12th Panorama of European Film, which was scheduled to take place from 6 to 16 November with the participation of several ambassadors, European Cultural Centers and the Panorama festival's founder Marian Khoury. This year's panorama will screen more than 75 films produced by prestigious European Production Companies.
Several Egyptian and Arab actors attended the opening ceremony including Lebleba, Mohamed Farrag, Basant Shawky, Ramzy Liner, Tharaa Gabel, Mohammed Hatem, Rozalyn Albeh, Amro Abed, Directors Ahmed Khaled, Sherif al-Hendary and Hala Khalel, media professional Asmaa Khalel, and several journalists and critics.
Following the ceremony, the Panorama showed Ken Loach's "Sorry We Missed You" (2019) starring Kris Hitchen, Debbie Honeywood, Nikki Marshall, and Rhys Stone. The film narrates the story of Ricky (Kris Hitchen) and his family who have been fighting an uphill struggle against debt since the 2008 financial crash. Ricky has moved from one job to another while his wife Abe remained working in the field she loves: providing care to elderly people.
Another highlight film of the panorama is Pedro Almodovar's Spanish drama "Pain and Glory" (2019) starring Antonio Banderas, Penélope Cruz, Asier Etxeandia, and Leonardo Sbaraglia. Zawya will show the film this weekend.
The panorama opened a new section of the festival this year called Here and There: Films in Motion and Without Borders. The other six sections in the Panorama program are: Main Narrative Features, Emerging Directors, Documentaries, Carte Blanch, Agnes Varda retrospective, Children and Family, and Special Screenings.
The Panorama of European Film is an annual event launched by Misr International Films and adopted by Zawya in 2014. The Panorama screens the latest award-winning feature and documentary films along with cinematic landmarks and classics from across Europe. It also runs workshops and masterclasses with international film industry guests.
Edited translation from Al-Masry Al-Youm