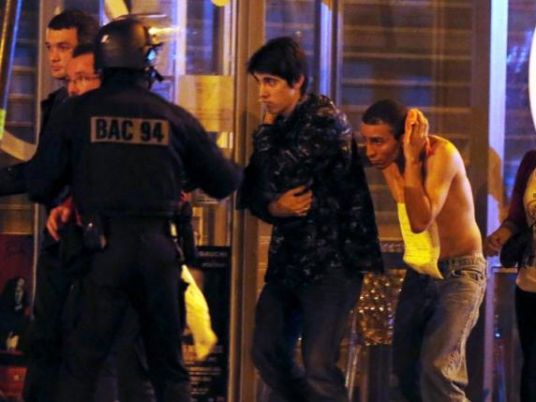 World leaders are reacting to the deadliest violence to strike France since World War II. Some of their comments:
Nordic governments, Swedish king
Nordic governments have condemned the Paris attacks, while ordinary citizens laid flowers and lit candles outside French embassies across the region.
Swedish Foreign Minister Margot Wallstrom talked about the "horrible news," while her Danish counterpart, Kristian Jensen, said "terrorists must be defeated. They cannot break democracies that stand together."
Finnish Prime Minister Juha Sipila said that "we must not give space for fear and intolerance."
After laying flowers outside the French Embassy on Saturday, Danish Prime Minister Lars Loekke Rasmussen said that "the perpetrators must be pursued and defeated. We will never give up."
Swedish King Carl XVI Gustaf said he was "shocked," adding that "it is important that we stand together against this unimaginable terrorism."
Denmark's government ordered flags on official buildings lowered to half-staff Saturday as a sign of solidarity.
Japanese and Turkish prime ministers
Japanese Prime Minister Shinzo Abe, who is in Turkey ahead of a G-20 meeting, observed a moment of silence together with his Turkish counterpart, Ahmet Davutoglu, in honor of those killed in the Paris attacks.
The two leaders expressed solidarity with the French people at the start of a Turkish-Japanese business forum in Istanbul.
Abe said: "We will stand against terrorism regardless of its reasons. We will stand in solidarity with the international community to prevent acts of terrorism."
Davutoglu said his country stood "shoulder-to-shoulder" with both France and Lebanon, which suffered a terrorist attack on Thursday.
Chinese president
Chinese President Xi Jinping issued a statement addressed to French President Francois Hollande expressing solidarity with the French people and condolences for the victims of Friday's attack.
"At the sorrowful moment of the French people, I, on behalf of the Chinese government and the Chinese people, and personally, condemn in the strongest terms the barbaric acts," Xi said.
Pakistan's Foreign Ministry
Pakistan said it "strongly" condemns the Paris attacks and "reiterates its condemnation of terrorism in all its forms and manifestations."
"The people and Government of Pakistan wish to convey their heartfelt sympathies and deepest condolences to the bereaved families and the people and Government of France. We stand with them in their hour of grief. We pray for speedy recovery of the injured," the Foreign Ministry said in a statement.
Australian prime minister
Australian Prime Minister Malcolm Turnbull extended Australia's deep sympathy to the people of France.
"Our thoughts and prayers are with them at this terrible time," Turnbull said in a statement from Berlin. "But our solidarity is with them too. When the French people left the stadium after that shocking attack, they were not cowed. They sang their national anthem proudly and that is how all free people should respond to these assaults."
"In France, and Australia, all around the world, we stand shoulder to shoulder with the people of France and with all free peoples in the battle against terrorism," Turnbull added.
The Australian government said a 19-year-old Australian woman had been injured in the attacks.
Afghan president
Afghan President Ashraf Ghani said in a tweet to French President Francois Hollande: "I sympathize with you and your people; Afghanistan stands with France with resolve to tackle terrorism as a common enemy."
A statement from Ghani's office quoted him as saying: "The brutal attacks in Paris prove that global terrorism does not recognize borders."
"Afghan people have for many years been the victims of terrorist attacks. They feel the pain of Parisians, and share the grief of the victims' families," Ghani said. "The people of Afghanistan stand with France on this terrible day. Terrorism is a serious threat to the entire world and we are united in the struggle."
Israeli prime minister
Prime Minister Benjamin Netanyahu says in a statement, "Israel stands shoulder to shoulder with French President Francois Hollande and with the people of France in our common battle against terrorism."
President Barack Obama
Obama is calling the attacks on Paris "outrageous attempt to terrorize innocent civilians" and is vowing to do whatever it takes to help bring the perpetrators to justice.
Speaking to reporters at the White House, Obama said he would not speculate about who was responsible.
He called the attacks a "heartbreaking situation" and an "attack on all of humanity."
US Secretary of State John Kerry
Kerry is describing the attacks in Paris as "heinous, evil" and "vile," calling them "an assault on our common humanity."
Kerry says the US embassy in Paris is "making every effort to account for the welfare of American citizens in the city."
He says the US stands ready "to provide whatever support the French government may require."
United Nations
UN Secretary-General Ban Ki-moon is condemning "the despicable terrorist attacks" in Paris.
UN spokesman Stephane Dujarric says Ban "trusts that the French authorities will do all in their power to bring the perpetrators to justice quickly."
The UN Security Council also condemned "the barbaric and cowardly terrorist attacks," and underlined the need to bring the perpetrators of "these terrorist acts to justice."
German Chancellor Angela Merkel
Merkel says she is "deeply shaken by the news and pictures that are reaching us from Paris."
The German leader issued a statement saying her thoughts were with the victims "of the apparent terrorist attack."
Jordan's king
King Abdullah II "expressed strong condemnation and indignation at the cowardly terrorist act," and solidarity with the French people, in a statement published by state news agency Petra.
Iranian President Hassan Rouhani
Rouhani has sent a message to French President Francois Hollande condemning the terror attacks in Paris that killed over 120 people.
The state-run IRNA news agency quoted Rouhani as saying Saturday that Iran "itself has been a victim of the scourge of terrorism" and the fight against terrorism must go on.
Rouhani also canceled visits to France and Italy, due in a few days. France was one of the world powers involved in recent negotiations with the Islamic Republic over its contested nuclear program.
Hossein Jaber Ansari, a Foreign Ministry spokesman, also was quoted by IRNA as saying: "Those terrorist groups that committed the Paris crimes do not believe in ethical principles and they are not loyal to any type of divine religions — including Islam."
British Prime Minister David Cameron
Cameron says he is "shocked" by the Paris attacks and violence.
Cameron said on Twitter: "Our thoughts and prayers are with the French people. We will do whatever we can to help."
Egypt's president
Egyptian President Abdel-Fattah al-Sisi has condemned the Paris attacks and is conveying condolences to the victims.
A statement from his office on Saturday called for "concerted international efforts" to combat "the scourge of terrorism, which aims to destabilize security and stability in various parts of the world, without distinction."
Persian Gulf countries
In the United Arab Emirates, the state-run WAM news agency says President Sheikh Khalifa bin Zayed Al Nahyan sent a telegram to French President Francois Hollande offering his condolences and pledging support for France. WAM says Al Nahyan also supported doing "what it takes to face terrorism and eliminate it."
The ruler of tiny Kuwait, emir Sheikh Sabah Al Ahmad Al Sabah, says in a statement that he offered his condolences, while stressing that "these criminal acts of terrorism … run counter to all teachings of holy faith and humanitarian values."
In Saudi Arabia, the state-run Saudi Press Agency quoted a Foreign Ministry official denouncing Friday's attack.
China's Foreign Ministry
Foreign Ministry spokesman Hong Lei says China is "deeply shocked" by the attacks and pledged solidarity with France in combating terrorism.
"Terrorism is a common challenge facing humanity. China resolutely supports France in maintaining its national security and stability and in attacking terrorism," Hong said.
Japanese foreign minister
Japan's Foreign Minister Fumio Kishida says he is "deeply shocked and outraged" by the news of the terrorist attacks in Paris.
Kishida, speaking to reporters Saturday in Hiroshima, said Japan stands by France, promising to cooperate in international fight against terrorism.
"We strongly condemn the act of terrorism, which we do not tolerate for any reason," he said, expressing condolences to the victims and their families.
US Defense Secretary Ash Carter
Carter is calling the attacks in Paris "an assault on our common human dignity."
The Pentagon chief says "the United States stands with the people of France and its vibrant, multicultural democracy."
He is praising France as a NATO ally and a leader of the coalition fighting Islamic State militants in Syria.
Canadian Prime Minister Justin Trudeau
"Our hearts and thoughts and prayers go out to our French cousins in this dark and terrible time," Trudeau says.
He says Canada has offered "all of our help and support to the government of France."