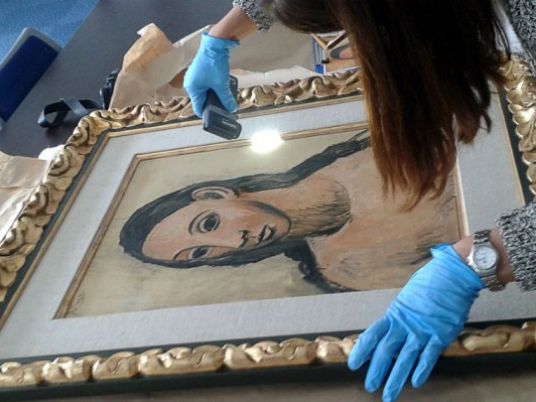 One year after its reopening, the Parisian museum dedicated to this giant of 20th century art is celebrating its 30th anniversary via a major event-exhibition entitled "i Picasso!", which will run from October 20, 2015 to March 2016.
Spread over the five floors of the Hôtel Salé in central Paris, this exhibition is divided into five parts with a total of 105 paintings (86 of which are by Picasso), 92 sculptures, 192 graphic works of art (drawings, notebooks, illustrated books, engravings, etc.), 190 photographs, plus four films and over 300 archive documents.
The first section, which is in the basement, concentrates on the history of the museum's collection. It covers the big donations, the opening of the museum in 1985, and the major exhibitions which have been held there.
The ground floor covers the artist's work between 1897 and 1921 in the form of self-portraits, pieces from his blue and pink periods, and work related to Cubism, his friendship with the French poet and writer Guillaume Apollinaire, and his relationship with Olga Khokhlova, one of the women in his life.
A third section focuses on the period 1922-1973 including surreal and abstract works, as well as his representation of the war, up until his Avignon period in the 1970s.
Political commitments and star power
On the second floor, we find Picasso the public persona, a fervent supporter of the Republicans during the Spanish Civil War in 1936 and creator of "Guernica", the painting which depicts the bombardment of the eponymous Basque village in 1937. This section covers the artist's political commitments as well as rise to stardom in the media.
The last section encompasses Picasso's personal art collection including paintings by friends such as Miró, Matisse and Brassaï, as well as pieces illustrating his love life and family life.
The anniversary week from October 20 to 25 will be marked by thematic children's workshops, unusual visits, a collective work to be created, and competitions. On October 25, a "Pablo Picasso birthday" celebration day will be organized with activities and gifts to be won.
Looking beyond the Picasso museum, the anniversary will be celebrated via various exhibitions including "Picasso.Mania" at the Grand Palais in Paris, "Picasso Sculpture" at the MoMA in New York, and "Picasso, Mythological Horizon" at Les Abattoirs museum in Toulouse, in the south of France.