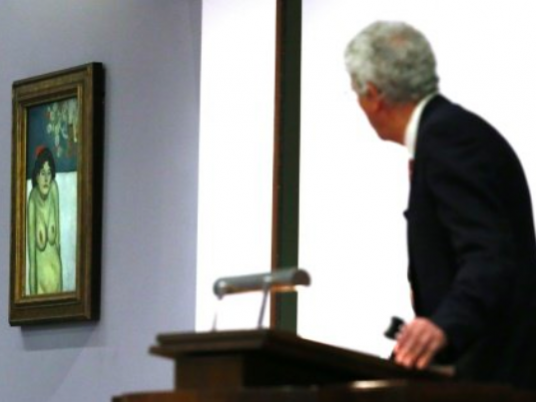 A Picasso picture of a cabaret artist, which carries a second painting on the reverse, sold for US$67.45 million in New York Thursday, scoring a windfall for American billionaire Bill Koch.
It was the top lot of the season so far, proving a savvy investment for the Republican party donor who paid just $3 million for the canvas in 1984 and later discovered he got two for the price of one.
Sotheby's had valued the canvas, "La Gommeuse," at US$60 million. It was painted in Paris in 1901 when the artist was just 19 years old and grieving the suicide of a close friend.
In 2000, during restoration work, Koch discovered that there was another painting on the reverse — a mocking depiction of Picasso's art dealer — that had been hidden under the lining for a century.
It was a lucrative night for Koch. Sotheby's also sold his Monet "Nympheas" (water lilies) study in oil for US$33.85 million, clearing its minimum pre-sale estimate of US$30 to $50 million.
Another highlight was a Vincent van Gogh, which sold for US$54 million.
"Paysage sous un ciel mouvemente" (moving sky over a landscape) was painted a year before the artist's death and shows storm clouds over fields outside Arles, France.
And one of the finest works by Polish-Russian painter Kazimir Malevich still remaining in private hands, called "Mystic Suprematism," sold for US$37.8 million.
A small van Gogh of a fat baby in a bonnet, "Le Bebe Marcelle Roulin" smashed its pre-sale estimate by selling for US$7.64 million following a prolonged and frenetic bidding war.
David Norman, co-chairman of worldwide impressionist and modern art, joked that it was the most expensive portrait of a baby he had seen in 30 years.
The auction saw Sotheby's kick back with a strong performance after a rather sluggish sale on Wednesday of US$377 million worth of art collected by self-made billionaire Alfred Taubman, a former Sotheby's chairman.
Taubman did a brief stint in jail in 2002 for price fixing.
The next week sees Christie's and Sotheby's go head to head in auction sales six months after the spring season smashed a string of records and netted more than US$2.6 billion for the rival auction houses.
The most expensive lots this season are a sumptuous nude by Modigliani valued at US$100 million, and a pop art masterpiece from Roy Lichtenstein estimated at $80 million.
Both go under the hammer at Christie's.