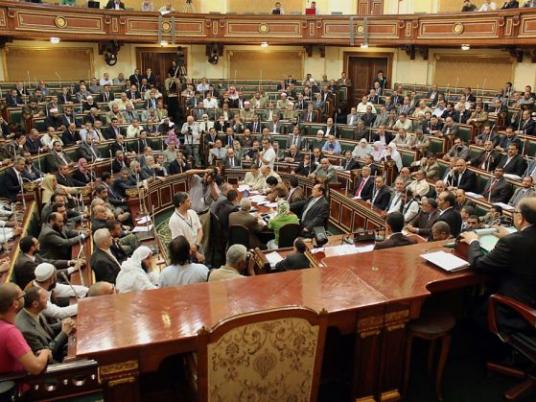 Egypt's Parliament approved on Tuesday a bill with amendments to the Penal Code, allowing authorities to jail family members of defendants charged with possessing explosive materials in cases where family members were aware of and covering up the crime.
The bill, which the government proposed to parliament, initially included a clause exempting the husband, wife, and relatives from any punishment in cases where they were aware of the defendant's possession of explosive materials. Parliament, however, passed the bill after removing this clause.
Removing the clause stirred controversy during Tuesday's general session. MP Talaat Khalil objected to its removal, arguing that "it is irrational that a father or mother reports their son, or vice versa. This goes against logic."
MP Diaa Eddin Dawoud also opposed the removal, saying it may be unconstitutional.
However, MP Mohamed Abu Hamed saw logic in its removal. He said that the philosophy of the article is to eliminate the environment that incubates terrorism, even if it requires targeting the people closest to the alleged terrorist. "This paragraph eliminates the terrorist elements, because the father who is covering up his son opens the door to the fall of a large number of victims," he said.
Parliament Speaker Ali Abdelaal spoke of the "bitter reality" of terrorism. He said there have been "many crimes in which the perpetrator [was] covered up by his family and close relatives: mother, father, brother, and son." In such cases, he continued, "it becomes more complicated, especially in places of a tribal nature, where you can't know the place of the culprit."
Head of the Legislative and Constitutional Affairs Committee, Bahaa Abo Shaqa, said that the amendments to the law indicate the necessity of combining the efforts of all state institutions in supporting every effort exerted by the armed forces and the police in order to achieve security, safety, and to preserve the capabilities of the Egyptian state, in the light of the comprehensive military operation 'Sinai 2018'.
"If a father knew that his son possessed explosives and is heading to blow up an institution in the state, is it permissible to exempt him from punishment so that he can cause a disaster?" said Shaqa.
Edited translation from Al-Masry Al-Youm