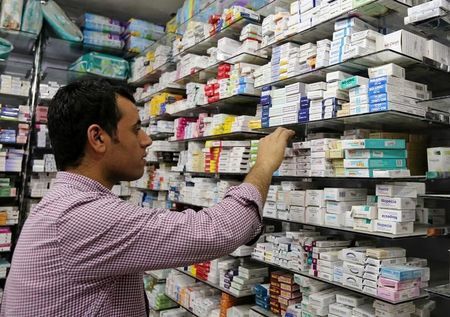 The Pharmacists Syndicate's general assembly decided on Saturday to file a lawsuit against the health minister's decision that ordered raising the prices of 3,010 pharmaceutical products.
It also decided to suspend the partial strike that was scheduled to start Sunday for two weeks, after the assembly approved the parliament's health committee proposal to disburse a profit margin of 23 percent on local medicines, 15 percent on imported medicines and reconsidering the pricing after six months.
Mohie Ebeid, head of the syndicate, declared that the general assembly meeting targeted tackling the future of the profession, due to the mismanagement of the drugs issue.
Ebeid added that the syndicate held meetings with the parties involved in the issue and tried to get promises from the Health Ministry and the Cabinet. It has been agreed to form a committee to re-price the medicines in order to preserve the interests of the patients.
He accused the minister of humiliating the dignity of pharmacists and destroying their professions.
During the meeting attended by around 3,000 members, Ebeid reviewed the approval of the modification of decision no. 499 on Profit Margins; in this decision, the health ministry decread increasing the profit margin on 12,000 products registered by the ministry.
This increase is to be applied on 23 percent of local medicines and 15 percent of imported ones for six months, until the repricing committee is formed and begins its work.
In related news, the decision to raise prices of medicines stirred anger on Saturday, amid President Abdel Fattah al-Sisi's calls for intervention to resolve the crisis. Doctors and citizens said the new prices will increase monopolistic practices.
In a meeting on Saturday, Sisi discussed the decision and stressed the necessity of tightening control to guarantee there would be no exaggeration in prices.
He indicated his rejection of the proposal to increase prices across the board, of all medicines with no exceptions.
It has been agreed instead that the increase in prices will be applied to around 20 percent of medicines in the aftermath of an agreement with pharmaceutical companies.
Edited translation from Al-Masry Al-Youm