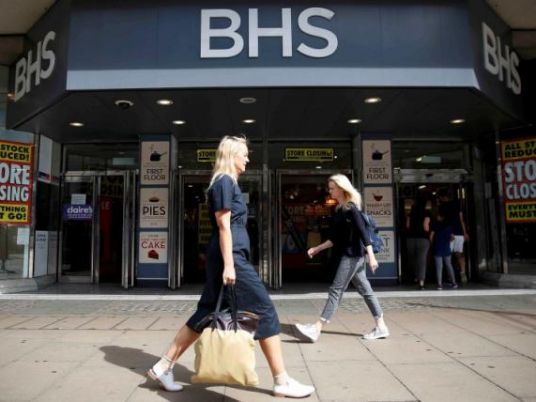 Retail tycoon Philip Green's greed and disregard for corporate governance led to the demise of BHS and cost 11,000 jobs, a report by British lawmakers said, calling the collapse of the stores group "the unacceptable face of capitalism".
Billionaire Green, 64, owned BHS for 15 years before he sold the loss-making 180-store chain to Dominic Chappell, a serial bankrupt with no retail experience, for one pound last year.
It went into administration in April, and all remaining 114 stores are due to close in the next four weeks.
The business was sold with a 571-million-pound ($750 million) hole in its pension fund, which if not filled will leave 20,000 pensioners facing significant cuts to their income.
"(Green's) rush to drive through the sale of BHS – a chain that had become a financial millstone and threatened his reputation – was the culmination of a sorry litany of failures of corporate governance and greed," Parliament's Work and Pensions and Business Committees said in a statement on Monday.
The committees said Green had a "moral duty" to find a resolution for BHS pensioners.
They said the demise of BHS – the biggest collapse in the British retail industry since Woolworths in 2008 – begs much wider questions about gaps in company law and pension regulation that must be addressed. The two committees will turn to those questions in new inquiries.
Their damning report represents a test for new Prime Minister Theresa May who promised on taking office to crack down on irresponsible corporate behavior.
Calling the report "concerning", May's spokeswoman said:
"The prime minister has already set out that we need to tackle corporate irresponsibility, reform capitalism so that it works for everyone, not just the privileged few."
Employers' group the Institute of Directors said the collapse of BHS "casts a long shadow over British business" and called on May to launch a review into UK corporate governance.
For Green, the report increases pressure to revoke his knighthood, awarded in 2006 for services to retail. The government said on Saturday the honor was under review.
"The only chance he has of keeping that knighthood, which seems to mean much to him and his wife, is paying up very, very generously on a pension settlement," Labour lawmaker Frank Field, who chairs the Work and Pensions Committee, told Sky News.
A spokesman said Green had no immediate response to the report. Last week the tycoon was pictured by media holidaying on his superyacht in Malta.
Avarice
The lawmakers said Green, Chappell, company directors and assorted advisers all got richer or rich from the part they played in the failure of BHS, with the only losers being the ordinary employees and pensioners.
"One person, and one person alone, is ultimately responsible for the collapse of BHS," said Field in the statement.
"His (Green's) reputation as the king of retail lies in the ruins of BHS. His family took out of BHS and Arcadia a fortune beyond the dreams of avarice."
Green said when he appeared before the committees last month that he would "fix" the hole in the pension scheme. He also admitted it was a mistake to sell to Chappell.
The joint committee did not spare "twice-bankrupt chancer" Chappell. They said he was a "manifestly unsuitable" buyer who "in effect … had his hands in the till", taking 2.6 million pounds from the business in addition to an outstanding 1.5 million pound family loan.
Chappell told the committees in June that he was part of the downfall of the group, but said his turnaround plan was thwarted by the pension deficit and Green's failure to make good on a promise to provide trade credit insurance to suppliers.
The report also criticized Anthony Grabiner, chairman of Green's Taveta Investments vehicle, saying he represented the "apogee of weak corporate governance."
Chappell and Grabiner were not immediately available for comment.
The report reserved its fiercest criticism for Green.
The lawmakers said Green, whose Arcadia group owns a string of fashion chains including Topshop, systematically extracted hundreds of millions of pounds after he bought BHS for 200 million pounds in 2000, leaving the 88-year old company and its pension fund weakened to the point of collapse.
Green's family, led by his Monaco-based wife Tina, accrued "incredible wealth" during the early, profitable years of owning BHS, but failed to invest sufficiently in it, the lawmakers said
Green then rushed to sell the chain to Chappell, riding roughshod over regulatory concerns about the suitability of the new owner.