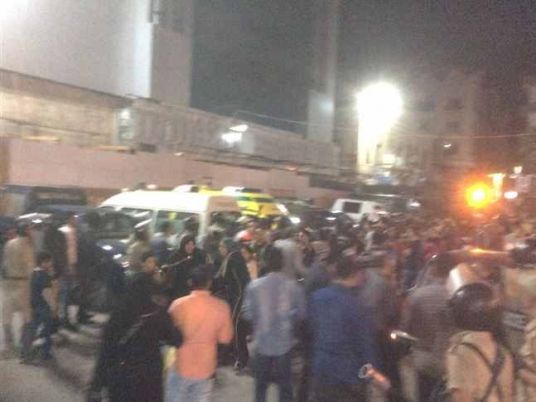 Before Coptic Christians could conclude their mass on Palm Sunday, the Mar Girguis Church in Tanta was bombed, leaving casualties.
Copts celebrate Palm Sunday to commemorate Jesus' triumphant entrance into Jerusalem on a humble donkey donned with cloaks. His followers and residents greeted him while holding and waving palm and olive branches to indicate victory. Palm Sunday marks the seventh Sunday of fasting before Easter Sunday when Christians celebrate Jesus' resurrection from the dead.
Al-Masry Al-Youm has compiled 12 facts about the church of Mar Girguis, based on the Tanta archbishopric's official website.
1. The church is surrounded by an area of land, stretching two feddans.
2. The land was purchased for LE730 in 1934.
3. King Fouad issued a royal decree ordering the church to be built.
4. In 1939, the church was built of wood and remained that way for 15 years. The first prayers commemorated in the church were on Palm Sunday.
5. On September 11, 1940, Bishop Thomas of Beheira, Gharbiya and Kafr al-Sheikh placed down the cornerstone of the cathedral. Construction was halted until 1945 due to World War II.
6. In 1952, the church was consecrated by Bishop You'anes of Giza, Qalyubia and Quweisna, Bishop Benjamin of Menoufiya and Bishop Macarius of Deir Mowas.
7. In 1961, bells were bought for the church.
8. A club was built for young people and a nursery for children, replacing the wooden church. Bishop Paul of Tanta demolished the old building to build a two-storey church. The basement has a large hall, while the upper storey haa a theater for annual shows performed by children and young people from other churches.
9. The church has two halls, on the left and the right.
10. A new hall was built and named for Bishop Athanasius
11. The church has a huge library, where people can read and borrow books.
12. The church also has another store which sells books and small gifts.
Edited translation from Al-Masry Al-Youm