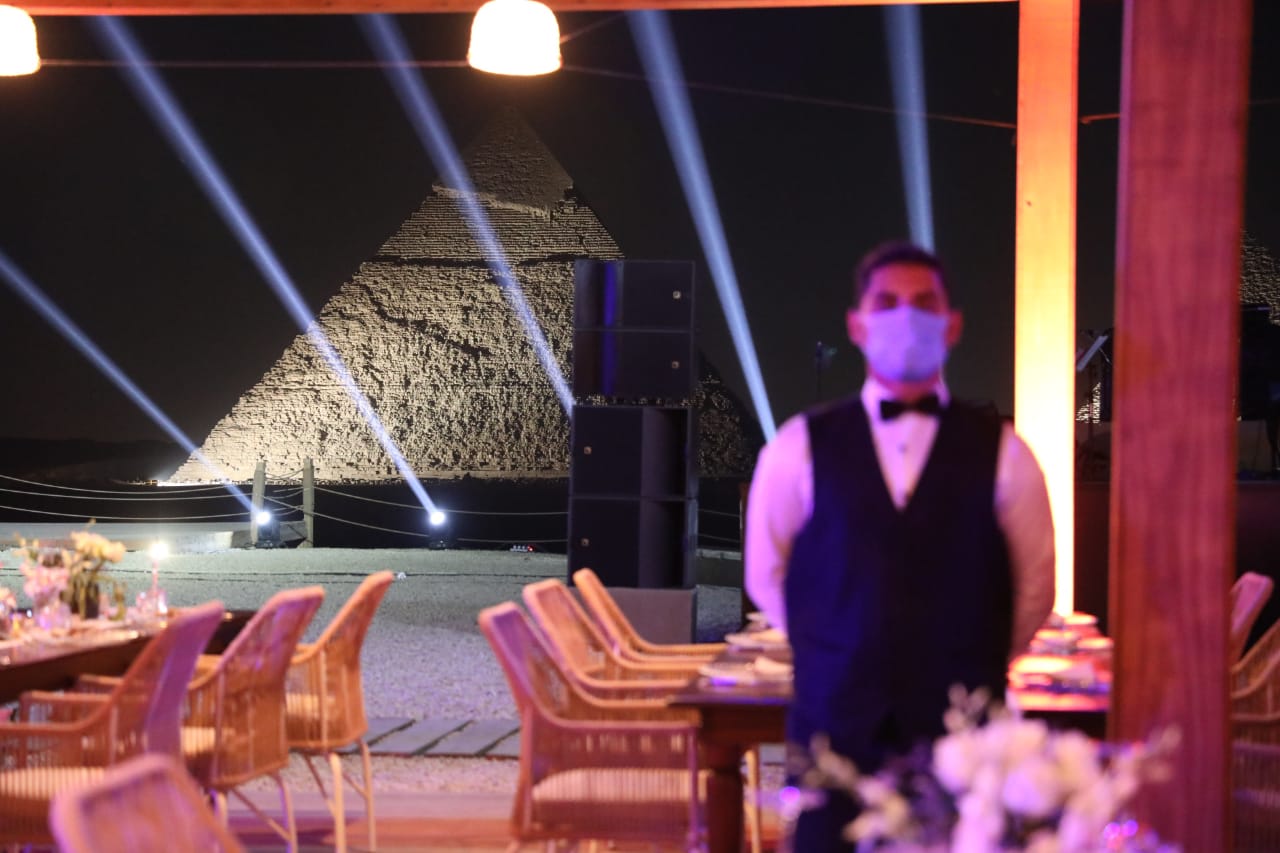 Minister of Tourism and Antiquities Khaled al-Anany on Tuesday inaugurated the "Nine Pyramids Lounge," the first restaurant and lounge within the Giza pyramids area.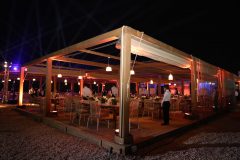 The opening ceremony was attended by Anany, the Chairman and CEO of Orascom Pyramids Naguib Sawiris and 50 ambassadors from foreign, Arab and African countries in Cairo.
The Nine Pyramids Lounge is managed and supervised by Orascom Pyramids, the subsidiary of the Orascom Investment Holding Company.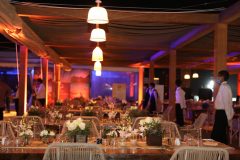 The lounge is located on the southern side of the plateau and overlooks nine pyramids, providing a unique, scenic view. The restaurant and lounge totals 1,341 square meters divided into several areas, some covered and others open spaces.
In a statement the Tourism and Antiquities said that this project is a joint effort between the Supreme Council of Antiquities and Orascom Pyramids Company for recreational projects to operate and improve services provided to visitors in the pyramids area.
The ceremony also witnessed the start of a trail run for the first environmentally friendly electric bus set to make pilot trips through six main stations beginning from the Visitor Center Station and ending at the Abu al-Houl (Sphinx) station, before returning to the Visitor Center Station.
Anani added that the restaurant is a simple wooden building with pillows spread on the ground Bedouin style, in a location providing a scenic view of the pyramids.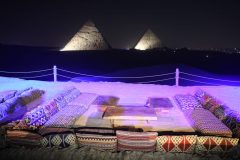 The minister also discussed the first electric tourist buses set to be used in the area by mid-2021 once a developmental project to improve tourist services is in place, and also after banning the entry of regular cars and buses into the plateau in order to help preserve the location.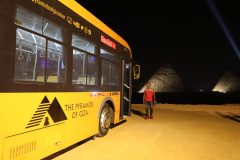 The project guarantees environmentally friendly electrical transportation, mobile and self-cleaning toilets and food services.
Sawiris explained that during the first quarter of 2021, an Italian restaurant, an oriental restaurant and a cafe will be opened in the area.
Earlier in October, Egypt's Saib Bank signed a long-term, LE230 million financing contract with Orascom Pyramids for Entertainment Projects, to develop the Giza Plateau, the area surrounding Egypt's Great Pyramids of Giza and the Sphinx.
The project aims to develop the plateau in line with the state's strategy to develop tourist destinations and increase the number of tourists in the coming period, according to an official statement by the bank. 
And Anani previously unveiled in February a plan to renovate the plateau, which included opening the area's first onsite cafe and restaurant.
Anani stated that the area lacks basic amenities for tourists, and that its development would allow Egyptian companies to provide much-needed services to tourists and allow guests to stay longer and enjoy what is arguably Egypt's most remarkable monument.