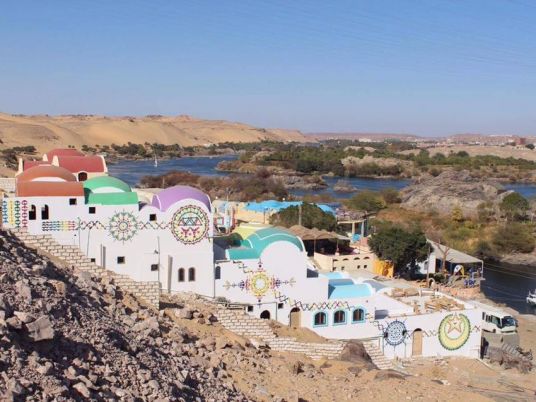 On the bank of the Nile River in Nubia, there is a small breathtaking village called Gharb Sohail where a group of youth decided to build a cozy hotel where visitors can enjoy the glorious Nubian lifestyle with a relaxing view of the Nile surrounding the place.
In a catchy terracing architectural design, 'Ashry Narty' hotel was initially inaugurated at the end of February with a first phase of 12 rooms, one restaurant, a big kitchen, terrace, upper roof, hall, reception, storehouse, room for workers and bazaar. It was designed on an area of 14 square meters overlooking the Nile and 100 meters along the mountain.
"Ashry Narty in Nubian colloquial means the island of beauty," Ahmed Sakr, the hotel founder, told Egypt Independent. This name was chosen becasue, in addition to the attractive natural location of the hotel that makes it the perfect choice for whoever wants to relax, the founders are also working to turn it into an open gallery of art masterpieces, by inviting the most professional artists to leave their mark on the hotel walls.
"We can do that by going deeper in the local heritage of Nubia instead of building giant shopping malls or mega projects which has been a large part of the strategy of those in charge of developing tourism in Egypt for the last years," he said.
The hotel announced recently that they will host a seven-day art festival in May inviting more than 30 artists to light up the hotel walls with their art designs inspired from the Nubian heritage.
"One of the main plans while building the hotel was to launch an annual art event that people await every year to visit and where artists and art lovers can come to join from across the world," he said.
But unfortunately, given that the hotel was not yet completley opened and that there was no enough time and resources, this year the festival will include only drawings on the hotel walls. Sakr explained that the hotel founders are planning in the next years the festival will include competitions to encourage beauty in arts, architecture, flower design, music parties, and workshops; in addition to a photography competition.
"There are international artists who have contacted us to come and there is a well-known Iraqi artist who sent us her request to come on her own expenses, as well as a popular Egyptian artist who will be coming from Vienna to join the event," Sakr said.
Moreover the event has received more than 200 requests from many artists with their Nubian drawing ideas; the hotel owners are choosing the best 20 or 30 from among these: "We will make all possible efforts to invite all 200 artists next year and have time to get sponsors to cover the festival costs and promote tourism.
The hotel owners are negotiating with two paint companies which can supply them with the paint materials and they are still looking for a sponsor to help with LE 50,000 to cover the artists' travel and accommodation expenses.
Sakr was 14 years old in 1994 when he visited Aswan for the first time in his life. From then, he had a dream to have a house overlooking the Nile River. During his college years, he visited Aswan several times due to his work as a tour leader, but then he had a career shift and travelled to Dubai in 2003, where he stayed for eight years working as a business developer at an international computer company. Sakr is currently in Japan pursuing his master's degree in Keio University, where his thesis is about the hotel as a new model for business leadership.
"But every time I was visiting Aswan I remembered my old dream," he recalled. In 2015 Sakr visited Gharb Sohail with his wife, kids and friends, one of them fell from the camel and they spent the night searching for a hospital with X-ray device to check his friend.
"This time I realized that instead of buying a house to visit Aswan for only two week a year, it's better to build a place everyone can visit, from any spot in the world and allocate 10 % of its profits to develop the health and education in this small village," Sakr said.
Sakr talked to one of his Nubian friends about his dream who surprisingly offered him a land inherited from his grandfather in Gharb Sohail village, asking to be a partner. When they checked the land, the geographical terrains seemed unsuitable, but its location was exceptional.
From another point, Sakr loved Gharb Sohail because he believed that the village has the all the natural factors to become an international tourist spot and an ecological village with a wide popularity and demand throughout the year, not only during the winter season.
"Our main aim is to establish a new concept of investments in Upper Egypt, based on local partnership that magnifies the heritage and creates shared values with local society. And we can do that by going deeper in the local heritage of Nubia, instead of building giant shopping malls or mega projects as has been happening in Egypt over the past years," he said.
"When I talked to some friends in Cairo about my project, one of them put me in contact with Mai Badr, a 23-year old who studied architecture and whose graduation project was a Nubian hotel part with a small crafts training and technicians center attached," he said.
When Sakr and Badr met, he discovered her exceptional talent, and asked her to make a concept design that suits the place's terrain; telling her to go ahead and unleash her potential! "She successfully designed an architecture masterpiece in the shape of terraces on the mountain," he said.
After the local currency devaluation, all the finishing costs doubled, Sakr borrowed a large amount of money to finish the project and three other partners joined him and his Nubian friend in the project with shares ranging from 5 to 10 percent.
However, building an environment-friendly hotel is neither easy nor cheap. Sakr insisted and used only environmentally-friendly materials in building the hotel instead of cement, in order to reduce energy consumption and safeguard the environment. Moreover, to use only clean energy, the owners are currently cooperating with Karmsolar Company to build a solar power station that will serve the hotel and surrounding places; and they are working on putting in place a new system to recycle the solid waste.
"People thought that we should build the hotel with the traditional techniques which are common in the village and much cheaper, but I wanted to build it in a different way, in the new design and the materials, even if it cost more," he pointed out.
The hotel will officially be opened in October 2017, with a second phase of 16 other rooms, a front reception, four paint houses, and a Nubian spa, which will be the first-of-its-kind in Egypt.