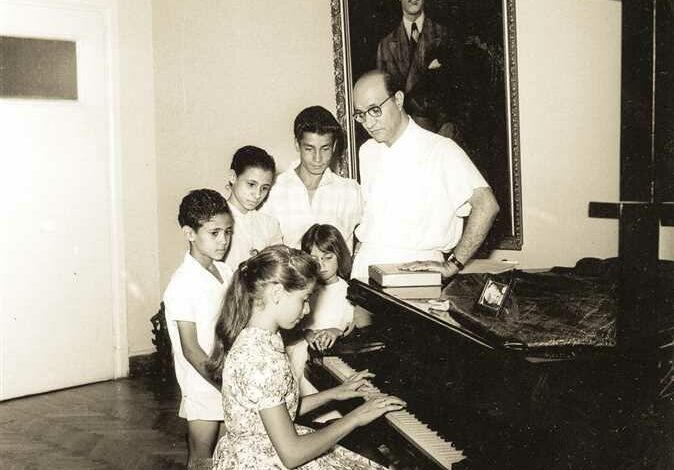 The Cairo Opera House announced the opening of Mohamed Abdel Wahhab Museum and Musical Instruments Museum at the Arab Music Institute for free for the public for a week, starting from Sunday 12 to Thursday 16 March, daily from 10 am to 3 pm in celebration of the birthday of the Abdel Wahab, known as the Musician of Generations.
This is an annual opera tradition aimed at introducing new generations to the symbols of Arab art.
The museum narrates the features of the career of Mohamed Abdel Wahhab through several halls, one of which bears the name "Hall of Memories" and is divided into two wings.
The second includes a number of private furniture of his house, such as his bedroom, his private office, a set of his favorite pieces of furniture and some of his personal belongings, in addition to a cinema hall that includes all the films that he acted in and are shown to visitors on special screens.
Another hall includes a complete library for Abdel Wahab's works of music, songs, albums, and his private photos with public figures and artists, which the visitor can browse on touch screens.
As for the Museum of Musical Instruments, it contains a group of old instruments that were found during the restoration of the building of the Institute of Arab Music.
The instruments were carefully renovated and displayed according to its nature varying between strings, wind instruments, percussion, etc.
A board next to each instrument explaining its nature: a device that produces the sound of each instrument, including rare instruments, such as the three quarter tone piano dedicated to oriental instrumentals, the Japanese koto instrument, the Indian sitar instrument, the santoor instrument, and the metal mandolin instrument.
This was used by Abdel Wahab in the melody of his song "Ashek El Roh" in the "Ghazal Al Banat" movie in 1949.
Several musical events were held at the Arab Music Institute theater by various Arab music troupes in celebration of Abdel Wahab's birthday.