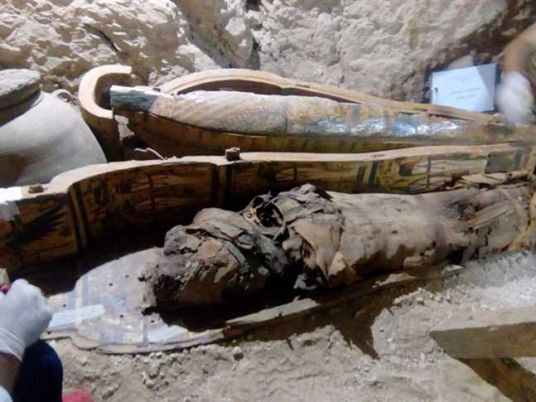 Antiquities Minister Khaled al-Anany announced on Tuesday the discovery of a cemetery in Luxor that contains dozens of coffins, Pharaonic mummies, ushabti statues and masks colored with gold.
The cemetery, named "Camp 157", was discovered by an Egyptian archaeological mission on Luxor's west bank and dates back to the 18th Dynasty. It belonged to a city adviser named Osarhat, said Director General of Luxor Antiquities Mostafa al-Waziry.
According to Anany, 450 meters of earth and rubble had to be removed from on top of the buried cemetery until the main gate could be reached.
A city adviser was a rare profession during that period, Waziry mentioned. He added that six mummies in good condition were discovered in six coffins.
Depite the cemetery's small size, masks colored with gold and other colors were discovered there, said Waziry.
The owners of the cemetery died due to a disease but archaeologists have not yet identified this disease, said Waziry.
A well containing 1,050 statues, some of them made of burnt clay, has been also discovered, Waziry said.
Excavation was still ongoing in the site as further discoveries are still expected. The director general referred to the discovery of two other cemeteries without giving further information about them.