Egyptian President Abdel Fattah al-Sisi on Thursday met with the Coptic Catholic Patriarch of Alexandria and the President of the Council of Catholic Patriarchs and Bishops in Egypt Patriarch Ibrahim Isaac Sedrak, alongside his accompanying delegation.
President Sisi stressed his government's keenness to coordinate with all religious institutions in raising awareness of the challenges facing the region's countries, which threatens their stability, the presidential spokesperson Bassam Rady said in a statement.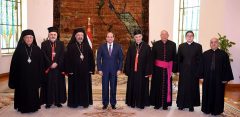 He also stressed on the importance religious leaders play in raising awareness of citizens, especially youth, in protecting the national identity and reinforcing the principle of citizenship without any discrimination.
This in addition to rejecting destructive ideas that urge to undermine the nation-state, he added.
Sisi also noted the importance of communication and cooperation between all Egyptian religious institutions and their leaders in this regard.
The government appreciates its positive relations with Egyptian and international religious leaders of all sects, Sisi said, in light of the state's current approach towards establishing the values of coexistence and freedom of worship.
This culture started in Egypt, the President said, and will spread across the region and emphasize the need to understand each region's various cultures, which requires interacting through the framework of respect and acceptance.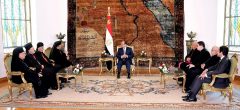 Patriarch Sedrak applauded Egypt's efforts at achieving rapprochement, coexistence and understanding among people from all religions.
The patriarch referred to the opening of the Cathedral of the Nativity in the new administrative city next to the Al-Fattah Al-Alim Mosque as a step that bears symbolic significance, a message of love and peace for the entire world.
It also demonstrates the Egyptian state's political will towards consolidating the principles of citizenship, acceptance and coexistence among all Egyptians.
The meeting also touched on the growing activities of extremist groups worldwide, and the threat this expansion has across various countries, alongside rising sentiments of extremism and exclusion.
Such a threat requires concerted efforts towards pushing the values of coexistence and tolerance among all peoples, building bridges of understanding as well as strengthening the role of religious institutions that call for understanding and peace.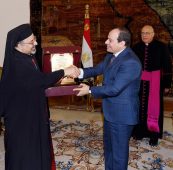 Edited translation from Al-Masry Al-Youm