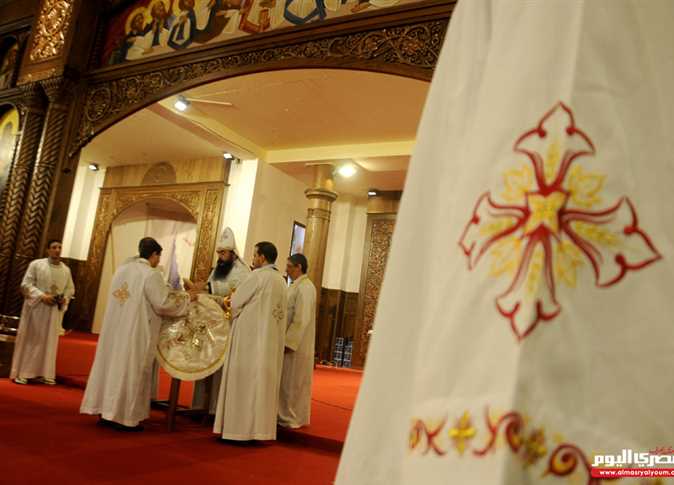 The Interior Ministry has arrested the terrorist cell which masterminded the attempted suicide bombing of the Virgin Mary Church in Mostorod, Shubra al-Kheima.
The case was referred on Monday to the Supreme State Security Prosecution to finalize the investigation. Police arrested the cell suspected to be behind the incident after obtaining permission from the prosecution.
The main terrorist, Omar Mohamed, died after he blew himself up due to tight security at the church.
The first of the cell members is M. A., 43, known as Zizo al-Minyawy. He lived in al-Zawya al-Hamra neighborhood in Cairo and worked with the Egyptian Petroleum Services Company. He led a cell in 1999 that adopted "Qutbism", an Islamic political ideology founded by Muslim Brotherhood member Sayyed Qutb.
The second is Y. K., 39. He lived in Zawya al-Hamra as well and worked as a mechanic.
The third is S. S., 41. He lived in Qaliubiya Governorate and also worked with the Egyptian Petroleum Services Company.
The forth is R. E., 42, from Zamalek, Cairo. She holds a Bachelor of Arts and was active in promoting extremist thought. She provided financial support to the cell upon instructions from fugitive terrorists abroad, according to investigations.
The fifth is H. A., 44, from Zawya al-Hamra.
The sixth is N. A., 37, also from Zawya al-Hamra. She is the wife of the fifth terrorist and the sister of the first terrorist.
The first and second members confessed to putting a poisonous substance on the nails used in manufacturing the IED used by the suicide bomber, in order to cause fatal injuries in the vicinity of the suicide wave and bring the highest number of victims.
The two also confessed that the second terrorist monitored the place with a motorcycle, and the first terrorist gave the start signal to the bomber, who hid the bomb beneath his clothing.
A suicide bomber targeted the church on Saturday afternoon, killing only the bomber. No serious injuries were caused by the bombing, according to a spokesperson for the Health Ministry.
Edited translation from Al-Masry Al-Youm