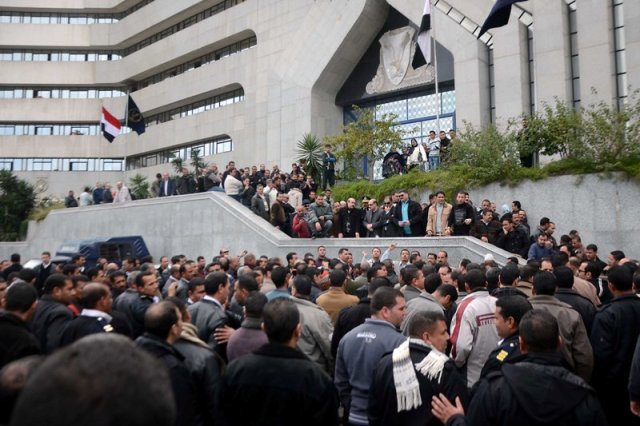 Police officers in Cairo and Giza have ended their strikes, while continuing to condemn the policies of Interior Minister Mohamed Ibrahim.
Assistant Interior Minister for Giza Security Abdel Mawgoud Lotfy had earlier convened with other officials from the province's security directorate, reaching an agreement to end the police sit-ins, according to a source at the Giza Security Directorate.
Protesting officers have given their superiors 10 days to carry out their demands, which include Ibrahim's removal, justice for police deaths and keeping them out of political conflicts.
Cairo Investigation Chief Gamal Abdel Aal also said that also police stations in Cairo are operating normally, saying that striking police resumed work after submitting their demands to the interior minister.
Abdel Aal told Al-Masry Al-Youm Monday that the officers will go back on strike if the Interior Ministry does not fulfill their demands.
Earlier on Monday, a ministry statement said 16 officers have been killed since January, when clashes erupted between police and anti-regime protesters on the second anniversary of the revolution.
The strikes started earlier in March, with officers protesting their lack of arms while being obliged to defend police stations and other facilities from attacks. The strike reached 10 governorates on Friday, but it is unclear whether or not the strike still continues in other governorates.
Edited translation from Al-Masry Al-Youm