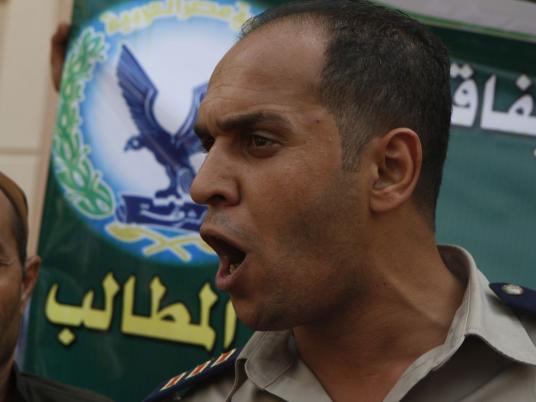 Dozens of police officers protested in Alexandria Thursday morning against the army's presence at the Montazah Police Department.
Military police and naval personnel had surrounded the building on Wednesday evening to demand the release of a naval officer who was detained for allegedly fighting with a police detective.
Police officers held banners reading, "O people join us, the Egyptian army is beating us," and "People and the police — one hand against military rule." They demanded that the incident be further investigated, and condemned the police chief's alleged attempts to cover up the incident.
Eyewitnesses said the altercation began when a police officer stopped the naval officer to ask for his ID card and driver's license. The naval officer then called his friends to come to his rescue when he was taken to the police station.
A similar incident occurred in New Cairo's Fifth Settlement on Monday, resulting in violent clashes between police and army officers.
In a reconciliation attempt, Defense Minister Abdel Fattah al-Sisi and Interior Minister Ahmed Gamal Eddin held a dinner by the Armed Forces on Wednesday to ensure friendliness between the army and the police.
The meeting was attended by more than 1,500 officers of various ranks from both the army and police.
Edited translation from Al-Masry Al-Youm