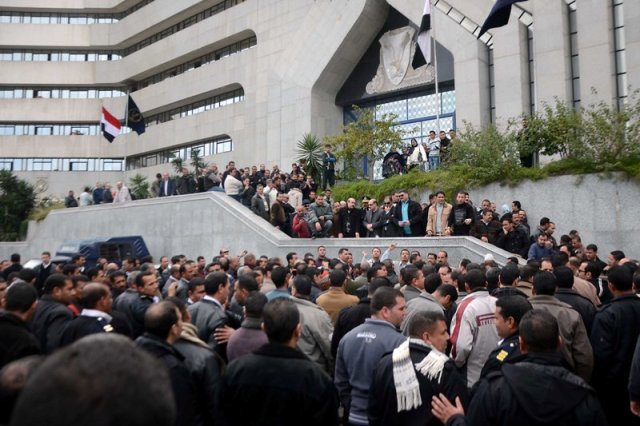 Discontent in Egypt's police ranks has boiled over into an unprecedented strike, with officers saying they will refuse orders until they are no longer used as political pawns, adding to the problems of President Mohamed Morsy.
Accused of excessive use of force by the opponents of Morsy and his Muslim Brotherhood, police officers say they feel despised by the people when they are simply following orders — and they will not take any more.
"We are suspending our work indefinitely because we refuse to take responsibility for the mistakes of a government that wants to get involved in political conflicts," police Colonel Hassan Mostafa told AFP in Port Said.
"All of society is against us, it considers the demonstrators [killed in clashes] to be martyrs, and we don't even have the right to defend ourselves," he added.
The police, particularly the Central Security Forces, have been engaged in violent and deadly street clashes with protesters, turning the public even more against an already reviled institution long accused of abuses.
The CSF is the branch of the Interior Ministry used to quell protests.
The police want a law to clearly lay down their powers and duties, and have also demanded weapons to deal with ongoing political protests.
The police "are paying the price of a political conflict. They risk prosecution [over the deaths of protesters] or getting killed" in clashes which have spiked since the end of 2012, General Abdel Tawab Hefny of the police headquarters in Alexandria told the independent daily Al-Shorouk.
The discontent began weeks ago with isolated pockets of protest, but by Thursday police were on strike in areas of Cairo, Alexandria, the Nile Delta, the Suez Canal governorates, southern governorates and the Sinai Peninsula.
In an attempt to ease tensions, Interior Minister Mohamed Ibrahim sacked the head of the CSF Friday and appointed a new chief.
But his announcement did little to placate angry police, who said they will pursue their protest.
"We will continue our strike until the government accepts our demands, which are to keep the police of politics, stop the 'Brotherhoodization' of the police and the dismissal of the interior minister," Colonel Mohamed Fawzy of the Cairo police told Al-Shorouk.
On Sunday, Ibrahim pleaded for an end to "rumors" of police abuse, saying his forces had not fired a single shot at protesters since the start of the 2011 uprising.
He sought to dispel accusations that he was close to the Brotherhood, and tried to paint a united front among police, saying that those on strike were a minority, adding that he also wanted to be kept out of politics.
"We call on everyone to keep us out of their equations. We don't belong to any faction, ideology, opposition," Ibrahim said.
Protests have also been staged among CSF members.
In the port city of Ismailia, CSF officers refused to be deployed to neighboring Port Said, where clashes since the end of January between police and protesters have killed more than 48 people, including three policemen.
On Friday, Morsy had to call in the army to secure the city.
Police in Egypt have been reviled for decades by much of the population. And despite the ouster in early 2011 of Hosni Mubarak's autocratic regime who relied on massive force to quell dissent, it is still considered a repressive institution.
According to local rights groups, more than 70 protesters have been killed since November. On Saturday, two protesters were killed in fresh clashes in Cairo.
The cases of two activists allegedly kidnapped and tortured, Mohamed al-Gendy, 27, and Mohamed al-Shafie, 22, have caused outrage and reignited calls for police reform.
The police strike and the violence of recent days in Cairo and Port Said have added to Morsy's troubles as he faces civil unrest and dissent across the country.
Commentators are already warning against a "collapse" of the police.
"The Interior Ministry is on the verge of collapse (…) and I see no other solution than early presidential elections," wrote Abdel Rahman Youssef, a moderate Islamist columnist, in Al-Shorouk.