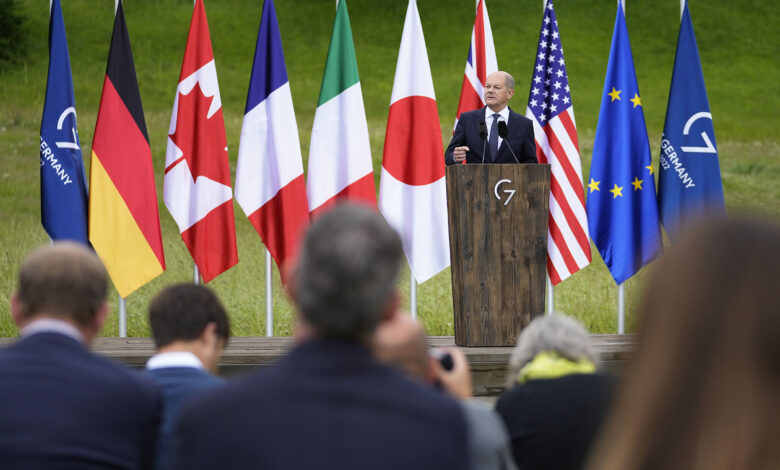 The G7 leaders will continue to ensure Russia pays a high political and economic price for its war against Ukraine, German Chancellor Olaf Scholz said in the concluding press conference after the G7 summit in Germany on Tuesday.
No end to the war was foreseeable, and it was "important that we keep up the pressure and continue the support, so that an end becomes possible at all and Russia realizes that it cannot enforce a dictatorial peace," Scholz said.
"Without a fair agreement with Ukraine, the sanctions will continue to exist," Scholz added.
The final communiqué of the G7 leaders published Tuesday said sanctions against Russia would be maintained for as long as necessary.
While the G7 leaders reemphasized their condemnation of "Russia's unjustifiable, unprovoked and illegal war against Ukraine," they called on China to press Russia to withdraw its troops from Ukraine.
Scholz said he also expected China not to undermine sanctions against Russia.
Cooperation with China was ambivalent, he said, adding the country was "struggling with the consequences of its own Covid strategy, which also has consequences for world trade."
The G7 vowed to support Ukraine for "as long as it takes" with financial, humanitarian, military and diplomatic support. Financial means for Ukraine will amount to over USD 2.8 billion in humanitarian aid in 2022 as well as USD 29.5 billion in budget aid, according to the communiqué.
The German Chancellor meanwhile called for a Marshall Plan for the reconstruction of Ukraine after the war.
While the G7 is considering capping energy prices to secure supply, price caps for oil imports were an ambitious goal and needed a lot of work beforehand, Scholz said. The G7 leaders had previously vowed to "phase out our dependency on Russian energy."