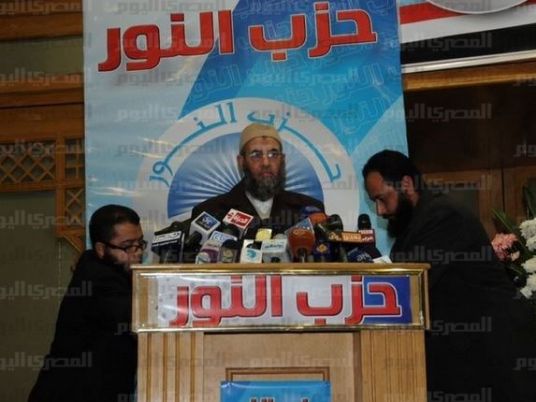 The Conservative Party's call for a unified electoral list for the upcoming parliamentary elections, which are yet to be scheduled, has caused a division among political parties, as many liberal groups object to the inclusion of the Salafi Nour Party on the list.
The party's call came as a step towards "a unified national list", previously suggested by President Abdel Fattah al-Sisi. The party's secretary, Boshra Shalash, has announced an inclusive consultancy session, scheduled for next Sunday, regarding the presidency's initiative. The meeting will also focus on the coordination among political parties with regard to the parliament's individually-sought seats.
The elections, initially scheduled for 22 March, were to unfold in two phases, extending through early May. However, the Supreme Constitutional Court ruled in March that some clauses in the electoral regulations were unconstitutional, which prompted the authorities to suspend the elections.
With regard to the objections to the inclusion of Nour Party, Shalash said "Nour Party is practicing its political activity through the Political Parties Affairs Committee", the judicial body responsible for the official recognition of political parties.
"President Sisi's call for the unification of parties in a single electoral list did not involve the exclusion of any political group", Shalash argued, adding that the objections will be disregarded.
"The parties ought to realize that Egypt is struggling for stability and progress; they need to set aside their ideological differences and understand that the unified list is an electoral, rather than a political, alliance", Shalash added.
However, some political figures still believe Nour should not be included in the proposed list.
"Our party will not be an ally of those, whose hands had been stained with the blood of Egyptians", said Abdel Nasser Qandil, the parliamentary affairs secretary at the leftist Tagammu Party.
"Tagammu rejects the Nour Party or any other group that puts up a religious facade", he told Al-Masry Al-Youm. "The Conservative Party has to choose: either Tagammu or violence and extremists".
The Nour Party was the only religiously-oriented group which supported the ouster of former president Mohamed Morsi in 2013, which earned it the animosity of other Islamist factions.
Shehab Wageeh, spokesperson for the Free Egyptians Party, said his organization is not taking part in the discussions regarding the proposed list. He, too, told Al-Masry Al-Youm that the suggestion of including the Nour Party "did not appeal to the party members".
Wageeh argued that Egypt's presidency did not call for a unified electoral list, but rather for "cooperation among parties".
Edited translation from Al-Masry Al-Youm