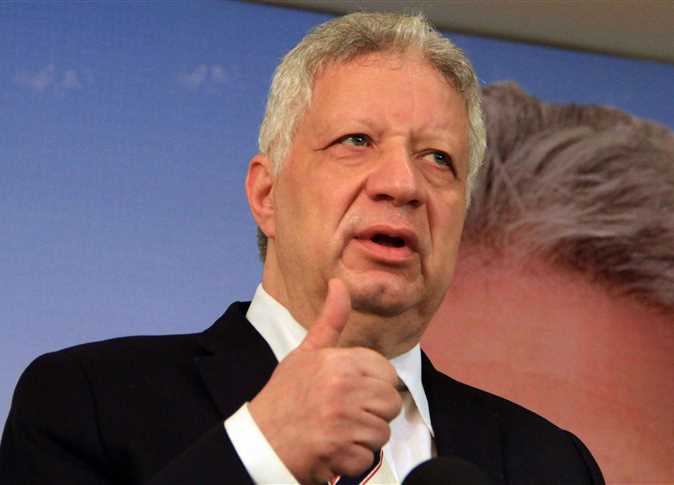 Zamalek club president and former MP Mortada Mansour insisted he did not lose the House of Representatives elections, claiming fraud as official results placed him sixth outside the election race in the Mit Ghamr constituency, Daqahliya Governorate.
During a Friday video broadcast from his office in the Zamalek club, the controversial public figure asserted that major fraud occurred in the Mit Ghamr elections, and that he had been in first place until the end of the vote counting process.
"I was the first with 10 thousand votes ahead from the closest competitor before counting a few boxes to the end, but what happened is absurd and I will not go into it now. I have more important things," he said.
Mansour also commented on statements made by media hosts Amr Adib and Ahmed Moussa regarding his loss, threatening that all those who rejoined in his loss would face a reckoning.
Runoff elections for the contested Mit Ghamr district will take place November 23 and 24 between the four highest-ranked candidates.
Mansour came in sixth place.
He filed an appeal last week against the results of the first round of elections wherein he failed to secure enough votes to proceed to the next round.
In the appeal, filed by Mansour's lawyer Khaled al-Berry, Berry asserts that the supporters of Mansour were not allowed to enter the Beshla village committees, and that attendance was restricted to supporters of candidate Ahmed al-Alfy.
The same situation reportedly played out in Sahrajt al-Kubra, Atmida and Dandeet, which is a blatant violation of the electoral process, the claim states.
In his appeal, Berry stated that the number of valid votes cast is not divisible by two, which confirms that there is clear fraud in favor of one of the candidates at another's expense, in addition to excluding 5,000 votes in Sentimay, Dandeet, and Bashalush as they were counted as void.
Candiates Osama Rady, Hilal al-Sheikh, Umayma Hegazy, and Nader Elaiwa also submitted appeals against the results of the electoral process, bringing the number of appeals to the results of the Mit Ghamr district to five.
The Mit Ghamr constituency this year had 36 candidates competing for a seat in parliament.
Mansour's son Ahmed also lost the elections in Cairo's Dokki district.
Mansour's parliamentary immunity will be lifted starting January 9.
He will then face accusations directed against him for insulting President of Ahly club Mahmoud al-Khatib, threatening to kill former footballer Ahmed Hassan, offending the Court of Cassation, slandering former president of Zamalek club Mahmoud Abbas, and insulting businessman Mohammed al-Amin.
Other accusations Mansour must face include charges of corrupt sales and currency exchange operations outside the banking system to maximize Zamalek club's profits.