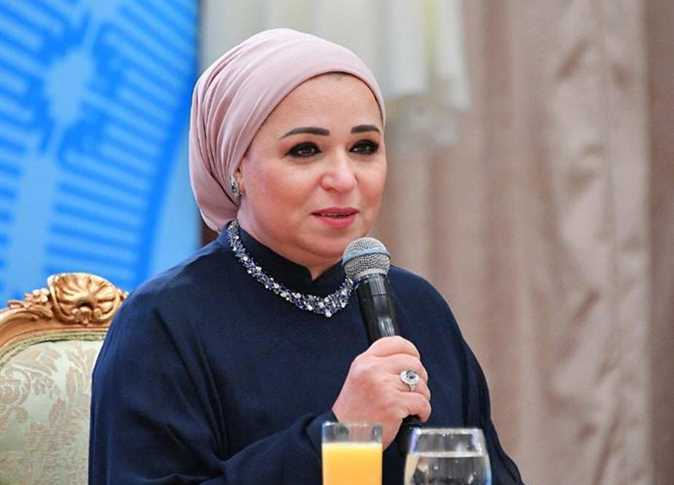 There must be political, economic and social action to support gender equality, Egypt's first lady Entessar al-Sisi said on Tuesday, stressing that the political leadership of the Egyptian state is making a strong effort to empower Egyptian women.
"Today I was honored to attend a session on reducing the gender gap, one of the most important challenges in the world," she wrote on her Facebook page.
A session entitled "Reducing the Gender Gap in the Labor Market" was held on Tuesday at the International Conference Center in Sharm el-Sheikh and was attended by First Lady Entessar al-Sisi, Social Solidarity Minister Ghada Waly and Planning Minister Hala al-Saeed.
President of the National Council for Women Maya Morsy started the session by talking about the economic benefits that will result from the empowerment of women and their equality with men in the labor market, pointing out that the Egyptian constitution ensures equality between the two sexes. She called for applying the constitution and stressed the importance of empowering women in the field of entrepreneurship.
Morsy added that the National Council for Women provides material support of LE20 billion in the form of training and awareness programs for women that reduce the gender gap significantly.
Egypt has a wonderful model in the training of women and equalizing them with men, Saeed said. According to Saeed, this wonderful model is the presidential program for the rehabilitation of youth for leadership, which trains women to reach leadership positions.
Women must be supported by each other first, so that the gap with men is narrowed, Executive President of the Women's Union Association of India Harbin Aurora said.
Funding is one of the problems hindering women's progress, Aurora said, stressing the need for a financial system that supports women's education and training programs so as to be up to date with the job market requirements.
Saudi lawyer and the legal researcher Ghaida Bajia stressed the need to activate the legal and legislative mechanisms related to women empowerment and the role of NGOs in this regard.
The most important factors for the empowerment of women is providing economic support that in turn provides good education and training programs.
International Labor Organization researcher Luca Vidi called for a review of working hours and making them flexible. Vidi also called for a change in the means of measuring efficiency to be the employee's production rate, rather than their working hours. If this happens, there will be significant economic returns to the family and society, Vidi mentioned.
Edited translation from Al-Masry Al-Youm