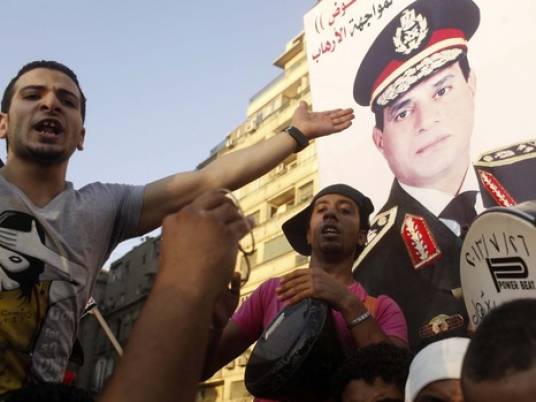 Defense Minister Abdel Fattah al-Sisi has been named "figure of the year" according to a poll conducted by the Egyptian Center for Public Opinion Research Baseera.
Maged Othman, head of the center, announced the findings on the privately-owned ONtv channel on Tuesday.
"The poll was conducted via landlines and mobile phones in a sample of 2,068 citizens over 18 years of age across Egypt," Othman explained.
Sheikh Mohamed Hassan was ranked the best Islamic preacher by 24 percent followed by Al-Azhar Grand Sheikh Ahmed al-Tayyeb with 6 percent.
Egyptians preferred Ahly Club's former player Mohamed Abu Treika by 36 percent, with the Basel Club player Mohamed Salah in second, with 2 percent.
In terms of best actor, "Adel Imam ranked the first place by 14 percent, then Nour al-Sherif by 7 percent then Ahmed al-Sakka by 6 percent," Othman added.
Both Youssra and Mona Zaki were rated the best actresses according to the poll, he added.
For singers, Amr Diab ranked the best male singer by 11 percent, then Mostafa Kamel by 5 percent then Mohamed Mounir by 4 percent.
Sherine was rated the best female singer by 14 percent, then Elissa and Assala followed, both by 5 percent.
Edited translation from Al-Masry Al-Youm