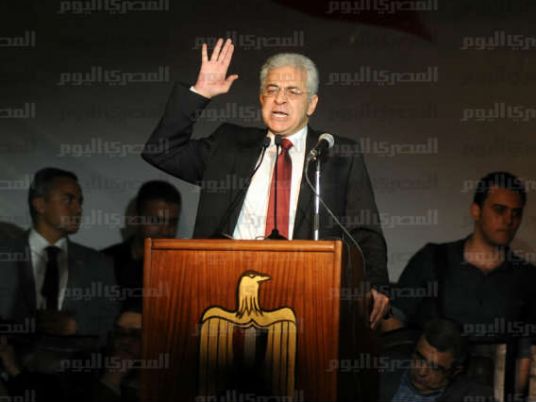 The Popular Current announced that its founder and former presidential candidate Hamdeen Sabbahi is not a member, does not attend the bloc's meetings, and has nothing to do with the Popular Current's decision not to participate in the upcoming People's Assembly election.
Ahmed Kamel, a spokesman for the Popular Current, said in a statement that Sabbahi is not a decision-maker in the bloc and the decision to boycott the elections came due to the law demarcating constituencies and the state of polarization in the society caused by media.
The next People's Assembly will be composed of remnants of the Mubarak-era regime and will not make democracy in the future, Kamel added. Kamel pointed out that the Popular Current did not call on Egyptians to boycott elections and would continue as member of the Democratic Alliance.
The statements attempting to disavow Sabbahi's affiliation to the Popular Current are similar to the statements made by the FJP to disassociate the party from the Muslim Brotherhood's guidance bureau, said leader of the unofficial Tamarod Party Maha Abu Bakr.
Abu Bakr expressed Tamarod's support for the law demarcating constituencies during the upcoming People's Assembly elections as it helps to eradicate the Brotherhood group and limit its presence under the next parliament. She criticized calls to boycott the elections.
Abu Bakr accused the Popular Current of lacking popularity and inability to run in the elections.
President Abdel Fattah al-Sisi does not back Mubarak regime remnants because it would not be in his favor if the Mubarak-era corruption returned, Abu Bakr added.
Edited translation from Al-Masry Al-Youm