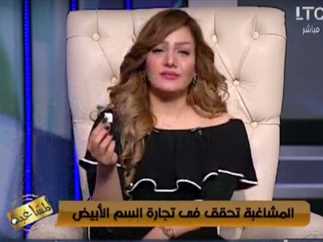 The dead body of journalist and presenter Shaima Gamal, who was killed by her husband, had signs of blows to the head and suffocation in the neck, official sources told Al-Masry Al-Youm.
The  husband who is suspected of the killing is a judge and now he has become a fugitive, said the source, adding that the second suspect in the case is detained pending investigation.
The body of the victim was buried by the husband on a farm in Abu Sir, Badrashin, Giza, in partnership with the owner of a contracting company, after the  killing happened.
The postmortem shows signs of blows and suffocation to her body.
These  medical investigations are in line with the recounting of the imprisoned suspect that the victim's husband hit her with the back of a licensed gun and then strangled her, the source said.
Examinations of the body also showed that there were traces of mutilation on the face and the upper part of the body, to hide the features of the victim.
The body was transferred to the Zeinhom Morgue, at the disposal of the Public Prosecution, which asked the forensic doctors to determine the causes of death in preparation for issuing a decision to bury the victim by her family.
The sources added that the imprisoned suspect helped investigators locate the body in the farm where the crime occurred.
A press statement, issued by the Public Prosecutor, said the prosecution received a report from the husband saying that his wife, Shaima Gamal, has been absent since she disappeared at a commercial complex in the 6 October City, without suspecting anyone.
As prosecutors started investigation, a person came forward and confirmed his close relationship with the victim's husband, and expressed his desire to make statements that implicated the reporting husband in the murder of his wife due to disagreements between them.
He confirmed that he witnessed the murder and knew where her body was buried.
The prosecution stated that due to enjoying a judicial immunity, prosecutors had to obtain a permission from the judicial authorities, to take legal measures against the accused husband.
Prosecutors then ordered his arrest and traced his itinerary on the day of committing the crime, which confirmed the story of the second suspect who was detained pending further investigation,