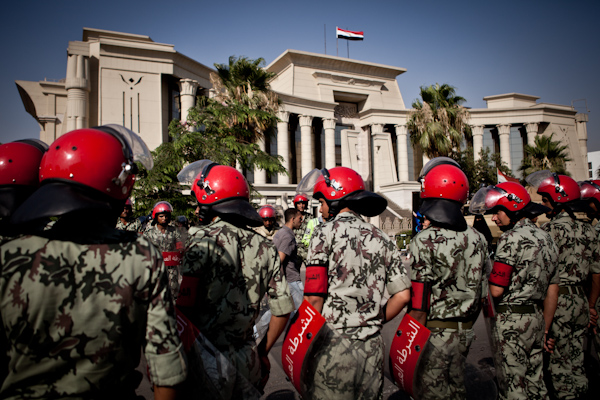 No judges were prevented from entering the Supreme Constitutional Court by the demonstrations in front of it on Sunday, said presidential spokesperson Yasser Ali at a press conference on Monday.
Three judges and the state commissioners did enter the building on that day, Ali pointed out.
"We did not like to see those demonstrations," he said, "but we respect all means of peaceful expression of opinion. …It is a guaranteed right for all Egyptians."
Also on Monday, the SCC released a statement claiming that the Islamist protests had obstructed the court's work. Court vice president, Judge Tahani al-Gebali, said that protesters blocked her way into the court on Sunday morning.
Gebali also claimed to have received a death threat.
The SCC was to convene on Sunday to hear lawsuits challenging the Constituent Assembly and the Shura Council.
Ali claimed the president had exerted great efforts to relieve the judges' anxieties regarding his recently passed constitutional declaration, which placed his decisions above judicial oversight.
"President [Mohamed] Morsy was once arrested for seven months in defense of the independence of the judiciary under former President Hosni Mubarak," Ali said.
The president would not invoke the constitutional declaration in any matters relating to judges, Ali claimed, adding that "the presidency wants the judges to supervise the [constitutional] referendum."
"Disputing the president's decisions is normal and healthy," Ali said. "It means diversity, not division."
"There is a legitimately-elected president who is responsible for achieving stability," he said, adding that Morsy is open for dialogue with all political forces.
Ali also claimed that the vice president approves of the new constitution, although it eliminates his post.
The Sudanese vice president has not offered to mediate for a solution, as has been rumored, Ali continued, calling the dispute between the president and the judiciary "a strictly internal affair."
Edited translation from Al-Masry Al-Youm