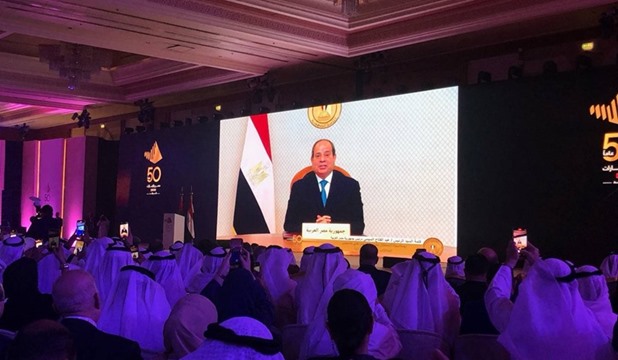 The President's Speeches
"In the name of Allah the Most Benevolent, the Most Merciful"
Today, we celebrate a very dear and cherished occasion to the heart of every Egyptian; the 50th anniversary of the Egyptian-Emirati relations.
These relations set a perfect example for strong ties that bind the two countries and peoples, as the true and sincere values of fraternity, affinity and harmony prevail between the two peoples, which we value and appreciate.
I hereby say: "The Egyptian and Emirati peoples will always remain united."
Bilateral relations, even when leaderships and governments change, remain a model for what distinct relations must be among the Arab countries. Egypt prides itself in sharing understanding and views with the leaderships of the United Arab Emirates since the days of the great founder of the UAE late Sheikh Zayed bin Sultan Al Nahyan, who is celebrated for his historic pronouncement that "Arab oil is not dearer than Arab blood", also late Sheikh Khalifa bin Zayed Al Nahyan and all the rulers of the United Arab Emirates led by its president, our dear friend and
brother Sheikh Mohammed bin Zayed, as well as our dear friend and brother Vice
President Sheikh Mohammed bin Rashid Al-Maktoum.
Over the decades the strength of theEgyptian-Emirati relations has not changed, in fact it has grown sturdier.
Mutual understanding, fraternity and consensus characterized the relations
between them.
Indeed, the relation between Egyptand the United Arab Emirates have always been special, based not only on profound appreciation, fraternity and real friendship, but also on a realistic,deep and careful understanding of the conditions in the region and the world,and on integration and efforts to promote cooperation and joint interests. This is what gives these relations strength and sustainability over time.
Economic and investment cooperation prospects for comprehensive cooperation between the two countries are promising and flourishing. God willing, the peoples of the two countries and the entireArab world will see their huge return.
Finally, in continuation of the positions of the great founder "Zayed Al Khair", I remember, with much appreciation and gratitude, the UAE's historic supportive position during a tough period that Egypt passed through around 10 years ago. This position further strengthened the special characteristics of the relations between Egypt and the UAE and proved clearly the robust bonds that the two countries, theirleaderships and their peoples share. This position was a proof that they are"one people and one country".
This is the covenant to which I renew my commitment; one of fraternity, welfare, cooperation, construction and common destiny. We pray Allah Almighty to support us to preserve and promote these solid and special relations for the good of the two countries and their brotherly peoples.
Thank you