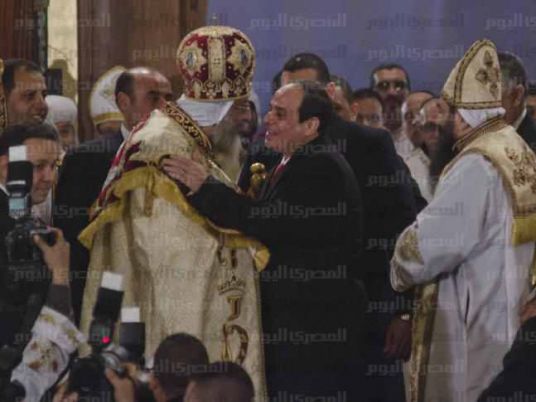 President Abdel Fattah al-Sisi on Tuesday became the first Egyptian leader since 1968 to attend a Christmas mass as Egypt's Orthodox Christians celebrated the occasion on Tuesday.
Sisi was coming back from a two-day visit from Kuwait, when he surprised the congregation at the country's main cathedral in Abbasseya.
"It was necessary to come here and wish you a happy new year, and I hope I am not interrupting your prayers," Sisi addressed the attendants. "It is important that the world watches that scene to realize the true unity among Egyptians."
The past few years have seen frequent, and occasionally bloody, tensions between the Coptic minority and the Muslim majority, surging coincidently with the two uprisings that toppled former leaders Hosni Mubarak and Mohamed Morsy.
Later president Gamal Abdel Nasser was the first to attend a Christmas mass in 1965. Former presidents Anwar al-Sadat and Hosni Mubarak did not take part in earlier services, though having visited the cathedral for different occasions.
Many believe Sisi's visit could serve as a soothing gesture for the Coptic community that for long expressed disgruntledness with marginalization.
"Thank you Mr. President, your visit was a pleasing surprise and a kind gesture," Pope Tawadros II, head of the Coptic Orthodox Church, said addressing the Sisi.