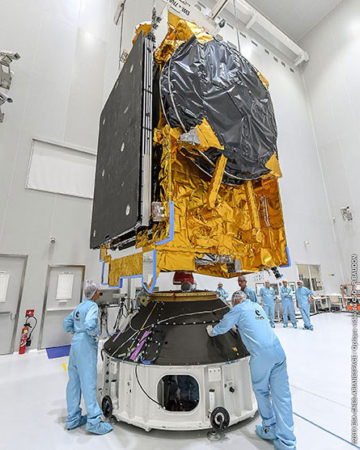 Egyptian President Abdel Fattah al-Sisi on Saturday met with Minister of Telecommunication Amro Talaat and the Executive Chief of Egyptian Space Agency Mohammed Afifi to discuss future usage of the "TIBA-1" satellite, the Presidency's Spokesperson Bassam Radi announced.
Sisi called to ensure that the satellite be utilized with the utmost optimization for governmental communications within the administrative body and the New Administrative Capital.
Talaat presented developments on the unified governmental network to support fast data transmission.
The project will help promote governmental services and comes as part of the state's strategic digitization project.
TIBA-1 is manufactured by the consortium of French companies Thales Alenia Space and Airbus Defense & Space, some of the largest international companies in the field.
Based on the Eurostar E3000 satellite platform, TIBA-1 was developed by Airbus for operation by Egypt's government and Thales Alenia Space. This communications spacecraft will weigh approximately 5,640 kg at liftoff and was designed for a service life exceeding 15 years.
The satellite aims to promote development by providing telecommunications infrastructure and broadband internet to remote and isolated areas, support development projects in these areas, as well as bridging the digital gap between urban and rural places.
TIBA-1 also contributes to advancing the sectors of petroleum, energy, mineral resources, education, health and all other government sectors. It will support all state agencies in the fight against crime and terrorism, and contributes to providing broadband Internet services for government and commercial purposes.
The new satellite will also provide internet and telecommunications services to some Nile Basin countries based on Egypt's efforts to cooperate with the African continent, especially in light of Egypt's presidency of the African Union in 2019 and its hosting of the African Space Agency.
TIBA is the first of the "TIBA Sat" series.