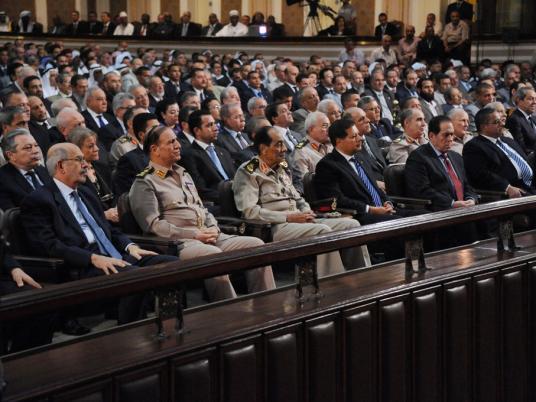 The Constituent Assembly's government system committee agreed Monday evening that the president has the power to declare war with an endorsement from the People's Assembly and consultations with the National Defense Council.
The committee turned down the suggestion of military representatives, who said that the Supreme Council of Armed Forces should have a say before a declaration of war.
Committee member Bassam al-Zarqa told Al-Masry Al-Youm that they agreed that the decision should be in the hands of the president and members of the People's Assembly, as they are the nation's elected representatives.
The committee's conclusion made no changes from the suspended constitution of 1971's Article 150, which says that the president declares war after receiving an endorsement from the People's Assembly.
Zarqa added that the committee refused to make the decision dependent upon the approval of the military, adding that they would have a consultative role in the process.
Egypt's new constitution will be drafted by the end of September, Prime Minister Hesham Qandil said Saturday. Qandil said that the draft will be put to a popular referendum once it's complete.
The Constituent Assembly, appointed by the dissolved People's Assembly, has been in the process of drafting the first post-Mubarak constitution since June.
Edited translation from Al-Masry Al-Youm