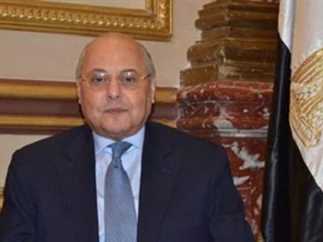 Samir Elaiwa, lawyer of presidential hopeful Moussa Mostafa Moussa, submitted Moussa's candidacy documents with the National Elections Commission at 1:45 p.m. on Monday, 15 minutes before the deadline for filing the candidacy papers.
Moussa, chairman of the Ghad Party, collected the minimum required endorsements of 20 Members of Parliament to run in Egypt's presidential elections, he told Al-Masry Al-Youm. He claimed that he also garnered the support of 40,000 citizens in various governorates.
Moussa stressed that his support for President Abdel Fattah al-Sisi does not contradict his candidacy for the presidential election.
According to Moussa the current situation requires a candidate to compete with Sisi so that Egypt's image does not become tarnished.
He stressed that he is looking for real competition with Sisi through the election.
Moussa said he's been thinking since long to run for president and that former presidential hopeful Ahmed Shafiq's withdrawal encouraged him to take the step.
"I will not be a background actor [for Sisi in the election]. I am looking forward to a strong and real electoral competition with the president, especially as I have a strong platform that relies on young people and addresses the rising prices," he said.
Moussa revealed that he will hold a press conference at the Ghad Party headquarters, at 6 pm on Monday, to present his platform and his presidential team.
Except for Moussa, each and every one of Egypt's presidential hopefuls has either withdrawn from the race or been forcibly pushed out by authorities.
Rights lawyer and activist Khaled Ali announced on Wednesday that he withdraws from his presidential bid, citing authorities' violations of the democratic process.
Parliament member and Zamalek Sports Club Chairman Mortada Mansour declared on Saturday his withdrawal from the presidential race, saying that his reasons for doing so will be revealed in a press conference at the appropriate time.
On Tuesday last week, Egyptian authorities arrested former army Chief of Staff and presidential hopeful Sami Anan on charges of violating military law, forging official documents and inciting a split between the army and the Egyptian public. The National Elections Authority then declared him officially disqualified from running in the elections.
In early January, ex-Prime Minister Ahmed Shafiq, who had been in self-imposed exile in the UAE since he lost the 2012 presidential race, announced that he was backing out from his bid for the 2018 presidency.
Following the announcement in November last year by army colonel Ahmed Konsawa that he intended to run in the elections, an arrest warrant was issued against him for violating a military regulation stating that no serving army personnel is allowed to run for political office. He was then sentenced to six years in prison.
Edited translation from Al-Masry Al-Youm