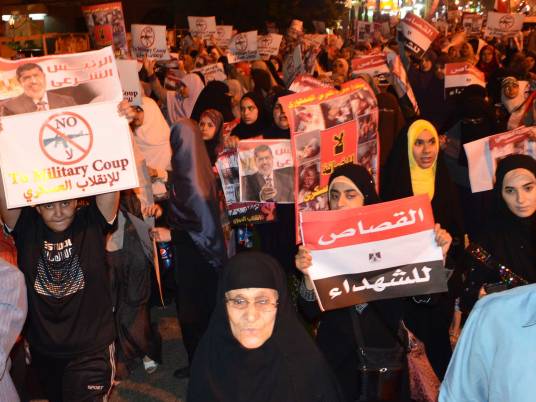 The Muslim Brotherhood and other Islamist movements vowed to paralyse traffic in Cairo on Monday by organising marches to several spots, including the Defense Ministry, the Republican Guard headquarters, and the Ettehadiya Presidential Palace.
They also said they would block several vital roads to demand the return of ousted President Mohamed Morsy.
Meanwhile, revolutionary powers are planning a protest on Friday to try Morsy for the "crimes committed during his presidency."
Supporters of Morsy on Sunday staged a rehearsal of a million-man protest they are planning for Monday to demand Morsy's return to power and chanted slogans opposed to the Armed Forces and Vice President Mohamed ElBaradei, and called for holding them accountable for the blood that was spilled at the Republican Guard headquarters last week.
The protesters performed athletic and martial exercises while chanting. They said they were exercising to fend off any potential attack by thugs, emphasizing that they only have sticks for weapons.
Pro-Morsy protesters said they will also coordinate with the protesters at Nahdet Mast Square in Giza to march onto Ramsis Street to bring traffic to a stop as planned. Protesters at Rabea al-Adawiya said they want to send across a message to show how big their numbers are.
Protesters at Nahdet Masr Square said they would implement a plan to restore Morsy to power by starting a civil disobedience campaign to paralyse work at several vital institutions and occupying Lebanon Square, blocking the 26 July Corridor, the 15 May Bridge, and Tahrir Square on Monday morning.
Thousands of pro-Morsy protesters on Sunday marched from Rabea al-Adawiya to the National Security Apparatus, also in Nasr City, to call for Morsy's return to power, as helicopters hovering over the protest dropped leaflets calling on the protesters to respect public will.
The leaflets called on the protesters to allow traffic to flow and to head back home and to work to build the nation, reassuring them that the Armed Forces will protect them.
Edited translation from Al-Masry Al-Youm