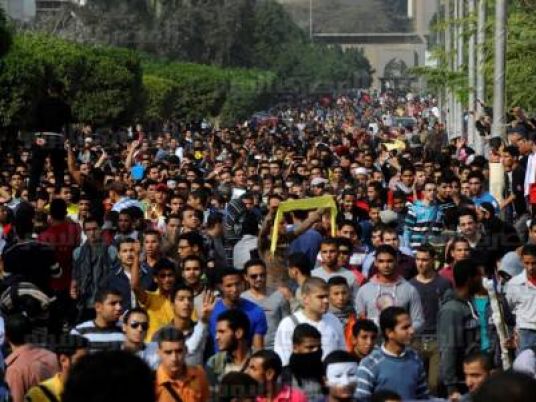 The pro-Mohamed Morsy National Alliance to Support Legitimacy called for a mass demonstration on Tuesday to support the steadfastness of the student movement, according to the Freedom and Justice Party official Facebook page.
"With your majestic revolution, you are taking advanced steps, with historical steadfastness, responsibility and patriotism," the statement said, addressing the MB-supporting students, "despite the cowardly terrorist coup, and the rising of the numbers of freedom hostages," referring to those imprisoned and detained by the current Egyptian regime.
The statement anticipates that the coup "is collapsing, since it is weaker than a spiders web." It awaits the "hour of retribution."
It greeted "the heroes of the proud struggling student movement," especially at the University of Al-Azhar University, which the statement dubbed, "the University of martyrs," and all other colleges, which started strike and disobedience until retribution is achieved.
The statement then called all the supporters of the MB to continue protesting, with a mass demo on Tuesday under the title, "the students lead the revolution."
Edited translation from Al-Masry Al-Youm