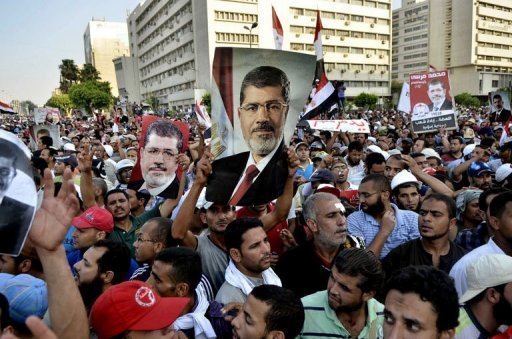 Twenty-nine Muslim Brotherhood supporters have been arrested around the country on various charges on Wednesday.
Eight MB supporters were arrested in Cairo on charges of inciting violence, protesting, assaulting police forces, being in possession of large quantities of fireworks and banners inscribed with slogans that incite violence against police and armed forces, in addition to possessing two gas masks.
In Assiut, six MB supporters were arrested for allegedly distributing flyers and banners with the Rabaa sign and blocking the road.
One person was apprehended in Behira and two in Suez for unknown reasons.
In Alexandria, five people were arrested for allegedly possessing five Molotov cocktails and three bottles containing explosive materials.
Six people were arrested in Fayoum on charges of storming and destroying the Sinnuras and Ibshway police stations.
Egypt's army-backed interim government has waged a determined campaign of suppression against the Brotherhood, labeling it a terrorist organization and accusing it of violence. Security forces killed hundreds of its supporters in the weeks after Morsy was overthrown and police arrested thousands more.
The Brotherhood, once Egypt's best-organized political and religious movement, which won five consecutive elections, denies any links to violence and accuses the army of staging a coup against Egypt's first-ever democratically elected president.