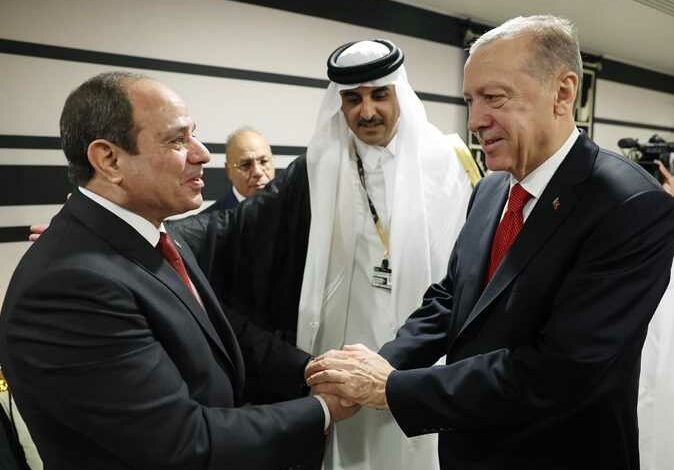 Turkish President Recep Tayyip Erdogan said in a statement on Sunday that the process of building relations with Egypt will begin with a ministerial meeting of both countries.
"My meeting with Egyptian President Abdel Fattah al-Sisi lasted about 45 minutes, and we decided to resolve bilateral issues through ministerial meetings," he explained.
Erdogan continued, "The relations of the peoples of Turkey and Egypt are very strong, and we must not lose them to others. Greece's infiltration of the region will not be good."
He added that he does not rule out the normalization of relations with Syria in the near future, as happened with Egypt, as there is no permanent rivalry in politics.
Erdogan pointed out that Turkey has the right to act in the areas it has designated outside its borders in order to protect its security.
A historic handshake
At the opening of the Qatar 2022 World Cup, international news agencies circulated a photo of Erdogan's handshake with Sisi in the Qatari capital, Doha, while the two leaders attended the opening of the Qatar 2022 World Cup.
Erdogan said that his meeting with Sisi lasted for about 45 minutes, pointing out that positive developments will take place with Cairo, according to the Turkish newspaper Aksam.
Turkey's ties with Cairo have been poor since the military overthrew Egypt's first democratically elected president, Mohamed Morsi of the Muslim Brotherhood. Erdogan, whose ruling AK Party is rooted in political Islam, had been a strong supporter of Morsi.
Turkey has taken rapprochement steps with Egypt in 2021, as the two parties have held rounds of exploratory talks in Ankara and Cairo, which did not lead to a full normalization of relations.
Turkish Foreign Minister Mevlüt Çavuşoğlu said earlier this year that the talks with the UAE "have made more progress than with Egypt, and that the mutual visits were successful."