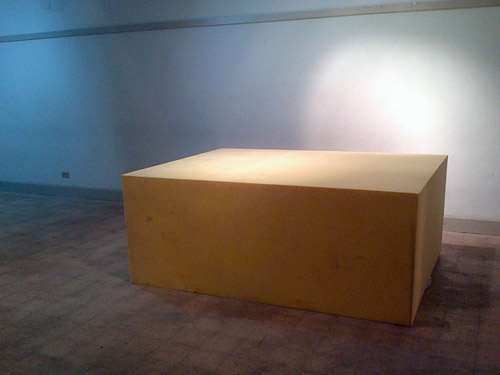 One of Faten El Disouky's works is a huge yellow cuboid of foam. It comes up to about waist-high, and you can touch it or sit on it if you like. But it just sits there, a normal material, quietly doing nothing.
Another piece is a slide emerging from a wall. There are two versions of it. The first is a gray, fiberglass slide a couple of meters high, glossy, handmade, slightly uneven and bulbous. The second is about the same height, but sharp-edged, industrial-looking and rust-colored.
At Disouky's recent solo exhibition at the Goethe Institute in Alexandria, children played on the base of this latter slide and bits of matt red paint got scuffed off to reveal the shiny metal underneath, which gratified the artist.
"At a specific moment in my life, I decided to stop trying to make my work seem complicated, but still every now and then I have ideas that are difficult to express in a simple way," says Disouky, who is 28 and lives and works in Alexandria, her hometown.
A sculptor is a bit of a rarity in Egypt. Even less common is an oeuvre that — so far — consists entirely of objects. In a country where there is almost no market for contemporary sculpture and not much more in terms of exhibition opportunities, it takes a certain amount of bravery or stubbornness to invest in physical materials and make bulky things that cannot be sent through cyberspace to larger, wealthier art scenes abroad.
Indeed, the specific physical presence of Disouky's best works is what makes them powerful: They are simple objects that appropriate familiar materials or motifs and relate to the viewer in a bodily way. A piece with four plaster light fixtures, for example, is positioned in a horizontal line at chest height or in a vertical line the length of a body — whereas normally you just see one, and it's on the ceiling. The huge gray slide looks like it should be quite small, and really a slide ought to be outside and accessible to slide down, but this one is not. The foam cuboid looks solid but proves malleable on being touched.
This instability, tactile or visual, and her meddling with scale or positioning mean the works can be slightly disorientating. They make you aware of your own physical presence. Disouky mentions British artist Martin Creed as a favorite, an artist who often makes very simple, playful gestures, like presenting a room in which the lights periodically go on and off, or putting enough balloons in a room that they take up exactly half the air in the space.
"I like playing around with the placement of an object, in terms of whether it should be inside or outside," Disouky says. "It is exciting how bringing an object from outside to inside — or vice versa — can be very engaging for the viewer. Location is a very important property that an object has."
The deadpan nature of Disouky's works is also a powerful quality. They are best when they are not too symbolic, when they do not give too much away or push for a psychological reading. A lot of the works stem from feelings about life stages, but when they seek to explain these ideas, they sacrifice their unapologetic simplicity. A potted tree that was on show at the Goethe Institute, almost as high as the ceiling, had its branches tightly surrounded by squares of plywood, keeping them from reaching out. It illustrated repressed vitality in a rather literal way. A piece that looks like a muddy miniature boxing ring on a plinth is visually strange and intriguing, but becomes slightly less so when it turns out it is meant to reflect a period of time in the artist's life when she was in a flexible stage, still taking form like clay.
Another piece at the Goethe was less easily readable: two large expanses of thin black foam nailed to the wall, covering it completely except for a circle of white wall in the middle and a thin white line on either side. It was a strong visual that at the same time could be mistaken for part of the scenery.
One of her interests is the genesis of elements of local visual culture, from the kitsch to the accidental, and how they are experienced.
"I'm very interested in what shapes public taste in Egypt. Why do people choose specific things and put them in their houses or on their clothes? Why do they think these things are beautiful and others not?" says Disouky.
The light fixtures are an example of this — ornate, plaster-cast medallions, they are LE15 each and found in most houses in Egypt, however poor, but one assumes that they arrived at some point from Europe, where they are now rarely used in interior design. It is interesting to find oneself considering this for the first time, as well as the physical details of the casts, when confronted with the four in a room.
Disouky initially studied at the Fine Arts Faculty in Alexandria from 2001 until 2006, and then later went to the independent study program set up by artist Wael Shawky, MASS Alexandria. She says that at the Fine Arts Faculty, there was not much creativity, and what they studied seemed old-fashioned, whereas MASS was a revelation because everything was much simpler, and her fellow artists were interesting and made very diverse work.
Anyway, Disouky does not like to talk about her work much. She prefers that it speak for itself, which rather suits it: Her works seek to communicate ideas using simple, clear and self-sufficient solutions that do not require interpretation. She does not title individual pieces but when they are grouped together they might get a title, like at her final show at MASS last year, "Look Inside."
Since finishing at MASS in 2012, Disouky has had a solo exhibition at Nile Sunset Annex (of which I am a founder) in Cairo, as well as the one at the Goethe Institute. To earn money, she has previously worked as a graphic designer and as a teaching assistant at Alexandria's Fine Arts Faculty and at the Naval Academy, but since early 2012 has been a curator at the Fine Arts Museum in Alexandria. She plans to stay in the job while continuing to make art. She is specifically interested in the possibility of showing work outside in the street.
"Having initially been more concerned with making work as part of a discussion with other artists, I am increasingly interested in making art that can appeal to a non-art audience such as my family and friends," she says.
This piece was originally published in Egypt Independent's weekly print edition.