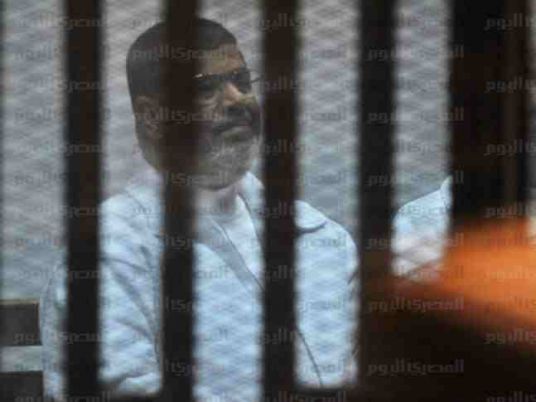 An Egyptian prosecutor denied on Wednesday that deposed Islamist President Mohamed Morsy had been referred to a military court, after the state news agency initially reported that he had.
Morsy, who has been incarcerated in an Egyptian jail, is facing trial in several cases in civilian courts. He was ousted in 2013 by then army chief Abdel Fattah al-Sisi after mass protests against his rule.
"When the public prosecutor referred the case to the military judiciary, the names of Morsy and (Brotherhood official Khairat) Shater were not among the defendants," Haitham Gamal, a prosecutor in Suez City where the case originated, told Reuters.
State news agency MENA said on Tuesday that Mursi, Shater and Mohamed Badie, the Brotherhood's general guide, had been referred to a military court. Later on Tuesday it cited an official judicial source denying that Morsy and Shater were among the defendants sent to the military court.
The case, involving 199 defendants, is focused on the deaths of more than 30 people, MENA said. The defendants face charges of murder and attempted murder and burning churches in Suez City.
Egypt expanded the jurisdiction of military courts in October to try civilians accused of acts ranging from attacking state facilities to blocking roads.
That followed some of the worst assaults on security forces since Mursi's fall.
Brotherhood leaders accuse Sisi of staging a coup. He says Morsy's removal was the will of the Egyptian people.
Sisi, who went on to become Egypt's elected president, says Egypt faces an intense, prolonged challenge from militancy.
Human rights groups accuse the government of suppressing dissent and rolling back on freedoms won in the 2011 uprising that toppled veteran autocrat Hosni Mubarak.