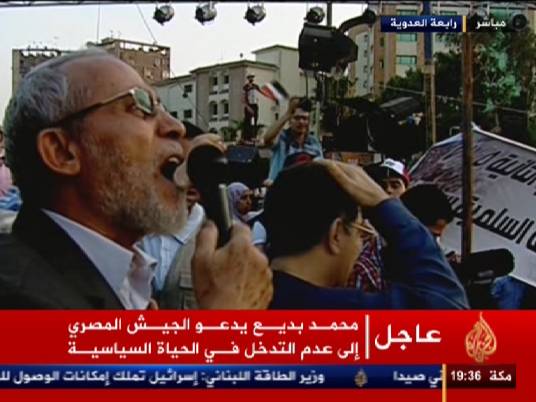 Egypt's Public Prosecution ordered on Wednesday the arrest and interrogation of Muslim Brotherhood Supreme Guide Mohamed Badie over accusations of inciting violence during clashes outside the Republican Guard headquarters on Monday, which left 59 dead.
The violence broke out during a protest held by supporters of the deposed president outside the facility where he is widely believed to be confined since his removal last Wednesday.
Other Islamist leaders included in the summons are Badie's deputy Mahmoud Ezzat, Muslim Brotherhood senior leader Mohamed al-Beltagy, deputy chairman of the group's Freedom and Justice Party Essam al-Erian, general secretary of the Brotherhood Mahmoud Hussein, deputy chairman of Wasat Party Essam Sultan, Jama'a al-Islamiya leaders Assem Abdel Maged and Safwat Abdel Ghany, Islamic preacher Safwat Hegazy, and activist Abdel Rahman Ezz.
Earlier on Wednesday, Heliopolis prosecutors detained 206 people for a 15-day period pending an investigation into the incident, while releasing 446 others on LE200 bail. The suspects face accusations of instigating murder and assaulting public facilities.
A 100-member team formed by the Public Prosecution has inspected the scene of the clashes and seized firearms, edged weapons, ammunition, shields, IEDs, and fire bottles.
The army and protesters have traded accusations of responsibility for igniting the violence.
Edited translation from Al-Masry Al-Youm