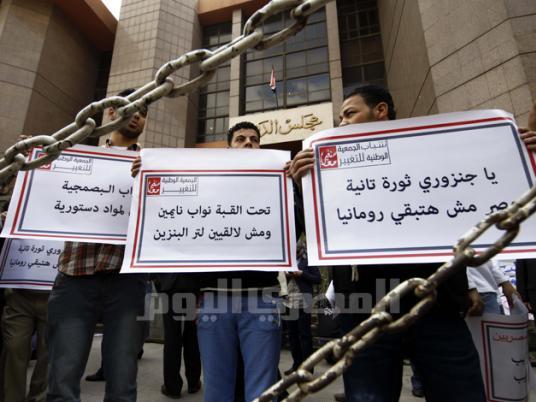 Hundreds of activists and members of leftist parties and revolutionary movements marched from Tahrir Square to Parliament Wednesday to reject the constituent assembly, which is holding its first session.
The protesters attacked the Muslim Brotherhood and accused it of monopolizing the constituent assembly. They also accused the ruling Supreme Council of the Armed Forces of "colluding with the Islamist current," saying they have both divided state affairs amongst themselves.
The protesters chanted, "The people want to bring down the Brotherhood," "Down with the rule of the military" and "Like they let the Americans escape, so will they let Mubarak go" in a reference to the recent case of NGOs accepting illegal foreign funding in which American citizens were charged then allowed to leave the country.
Participants in the protest, including the April 6 Youth Movement, the Free Front for Peaceful Change, the National Association for Change, and the Tagammu and Egyptian Communist parties, raised banners to call for the dissolution of the constituent assembly and the formation of another from outside Parliament.
The banners read, "No to the Brotherhood, No to Salafis. The constitution is for all Egyptians."
Protesters from the April 6 Youth Movement drew graffiti of the SCAF and the Brotherhood on the walls of the US Embassy. They also wrote, "Do not trust two: the military and the Brotherhood."
Ahmed Derag from the National Association for Change said the purpose of the march is to protest the composition of the constituent assembly, pressure for its dissolution and determine specific criteria for the choice of members of a new assembly that will express the wishes of all groups in society. He accused MPs of abandoning the role for which the people elected them — legislation and monitoring — and of using their power to produce a constitution to keep the Islamist grip on power for decades.
Sherif al-Rouby, a member of the Democratic Front of the April 6 Movement, said the Brotherhood see themselves as guardians on the people, repeating the mistakes of the dissolved National Democratic Party.
"The Brotherhood only hears its own voice," he said, warning of a revolution against the Brotherhood.
"We don't want to exclude anyone. We want a general consensus on the constitution."
Translated from Al-Masry Al-Youm