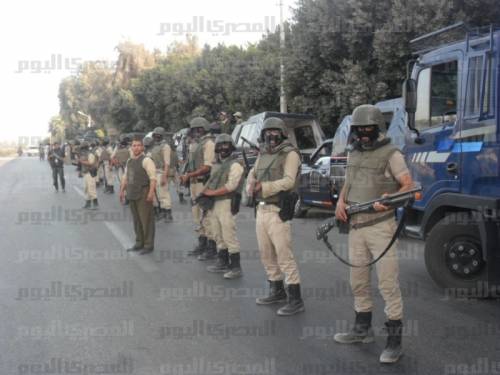 President Mohamed Morsy said that the demands of the people of Upper Egypt are legitimate and shall be met, as the governorates of Upper Egypt have been deprived of public services for years.
"We feel you and your problems," Morsy said in a speech on Saturday at a mass meeting held in Sohag Sports Stadium, in the presence of Prime Minister Hesham Qandil, and other participating ministers and governors.
Morsy said that during the cabinet meeting held at the Sohag Governorate building, he discussed the problems, services and requirements of Upper Egypt, including housing, unemployment, roads and security and utilities.
"I always like to be with you and amongst you, to talk, discuss, share, ask and look forward to see what we should do," he added.
The Egyptian president stressed that, "Sohag is the heart of Upper Egypt."
Central Security forces in Sohag had prevented the arrival at the stadium of demonstrations organized by political forces and citizens opposed to the Brotherhood.
Clashes erupted between members of the Muslim Brotherhood and demonstrators who carried a coffin wrapped with the Egyptian flag, an expression of the death of Egypt under Brotherhood rule. They also held a picture of late journalist Husseini Abu Deif, killed covering clashes at the presidential palace in December, who was from Sohag.
Husseini's brother, Sami Abu Deif, also joined the demonstrations, to express the family's rejection of Morsy's visit.
Security forces threw tear gas to disperse the demonstrators and fights.
Demonstrators blocked Akhmim Bridge leading to the stadium and governorate office buildings.
Protestors chanted slogans against the president and the Muslim Brotherhood, including, "I am not an infidel, I am not an atheist, down with the rule of the Supreme Guide [of the Brotherhood]," "Explain to him [Morsy] that Egypt is not his father's property," and "The treacherous sold out the revolution in the name of religion."
The visit witnessed a heavy security presence, with main roads through which the presidential motorcade would pass shut down, further aggravating citizens.
The presidential commission supervising the visit cancelled President Morsy's opening a pasta factory owned by the Armed Forces, after it was reported that former President Mubarak inaugurated it five years ago.
Earlier on Saturday president Mohamed Morsy opened the third phase of the National project for Housing in Kawthar district of Sohag Governorate, which includes 1,272 residential units, presenting a group of young people with residency contracts.
During the ceremony, Morsy made a short speech, saying he will announce a development plan for Upper Egypt from Sohag. He thanked executive and popular agencies for their full cooperation to push forward the development plan and the Renaissance project.
The host of the ceremony recited verses of poetry, in which he called on Morsy to apply Sharia.
Morsy took a tour through the new housing units and met with some of the families who were handed their new contracts and cheered for him.
Edited translation from MENA and Al-Masry Al-Youm