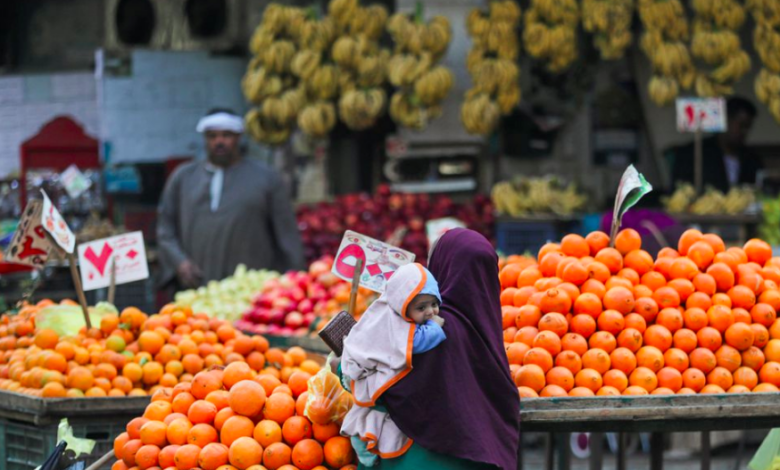 The first day of Ramadan across Egypt brought with it a noticeable increase in vegetables prices and crowding at marketplaces.
Law enforcement authorities continued their campaigns to ensure that fair prices were adhered to.
Tomatoes in particular amounted to more than LE10 per kilo, and the price of beans increased to LE20 per kilo, and potatoes to six LE per kilo.
The prices of nuts increased by more than 40 percent compared to last year. Fruit prices however witnessed remarkable stability, with the price of local bananas recording LE10, and strawberries and guavas both stood at seven LE.
Minister of Local Development Mahmoud Shaarawy followed up on the availability of basic commodities and foodstuffs in the markets, stressing the importance of continuous follow-up by governors and executive leaderships in the governorates regarding the availability of goods.
He assured that the state will meet every citizen's needs throughout the holy month.
Shaarawy also instructed to inspect fixed and mobile outlets, exhibitions and displays provided to sell food commodities and expand the "Ahlan Ramadan" exhibitions.
The minister furthered ordered that all executive bodies in every governorate provide the necessary support and facilities to citizens wishing to hold Ramadan charity Iftar banquets.
He also requested that executive bodies across the nation continue their campaigns on the markets and confront all forms of commercial fraud.
In addition, executive agencies continued their massive campaigns to control the markets, and resulted in the seizure of 1280 various supply cases.
Thousands of people performed Taraweeh prayers on Sunday in mosques across Egypt amid full compliance with the precautionary measures against COVID-19.