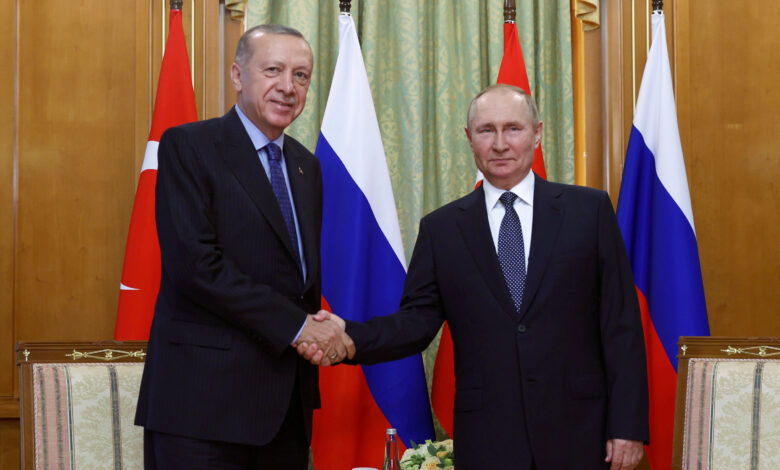 Russian President Vladimir Putin on Friday praised his Turkish counterpart Recep Tayyip Erdoğan for his role in the signing of a deal to unblock Ukrainian grain exports.
"With your direct participation and with the mediation of the UN, the issue related to the supply of Ukrainian grain from the Black Sea ports was resolved. Deliveries have already begun. I want to thank you for this and for the fact that at the same time a package of decisions was made on the uninterrupted supply of Russian food and Russian fertilizers to global markets," Putin said.
Erdoğan and Putin are holding talks Friday in the Black Sea resort city of Sochi in southern Russia.
"For many countries, especially for developing countries, which are on the verge of major problems with food and fertilizers, such decisions, which were made with your direct participation, are very important," Putin added.
On July 22, Ukraine and Russia agreed on a deal that would allow the resumption of vital grain exports from Ukrainian Black Sea ports. The agreement was brokered by the United Nations and Turkey in Istanbul.
For months, Russia blocked maritime access to those ports, meaning that millions of tons of Ukrainian grain has not been exported to the many countries that rely on it. Both Ukraine and Russia had both accused each other of mining the waters.
Erdoğan said steps that are taken in the energy sector, grain corridor in the Black Sea, the transportation sector and the discussions on the tourism sector are vital in terms of revealing the role played by Turkey and Russia in the region.
Putin said Moscow hopes to sign a memorandum with Turkey on the development of trade and economic relations between the two countries.
The two leaders are planning to discuss in detail the topics of Russian and Turkish cooperation, including the prospects for further expansion of trade and economic ties and the implementation of joint strategic projects in the energy sector, the Kremlin said Thursday.
Kremlin spokesperson Dmitry Peskov said last week that Putin and Erdoğan will discuss military and technical cooperation as well as issues of grain export from Ukraine.